160 Happy Wedding Anniversary Wishes – Cute Ways To Write Anniversary Card
An anniversary is a happy occasion that sometimes falls during a tough time, due to serious illness, job loss, marital problems, or other challenging circumstances. Whatever the situation, it's still appropriate to acknowledge the anniversary and send good vibes the couple's way. If you'd like to write your own original wedding anniversary wishes, try writing down the top five words and phrases that come to mind when you think of the couple or your other half, like committed, funny, beautiful, or a match made in heaven.' These will get your brain flowing around wishes that would suit them!
When you send an anniversary card, the words you write can add so much to the joy of the occasion. You can make a toast, offer encouragement, share a memory or simply call out how special it is to have, hold and stick by each other through time. Do not settle for an ordinary or impersonal card on your anniversary day. Whether it is your fifteenth-anniversary celebration or your seventeenth, custom anniversary cards are known to be the ultimate romantic anniversary gift for her or him.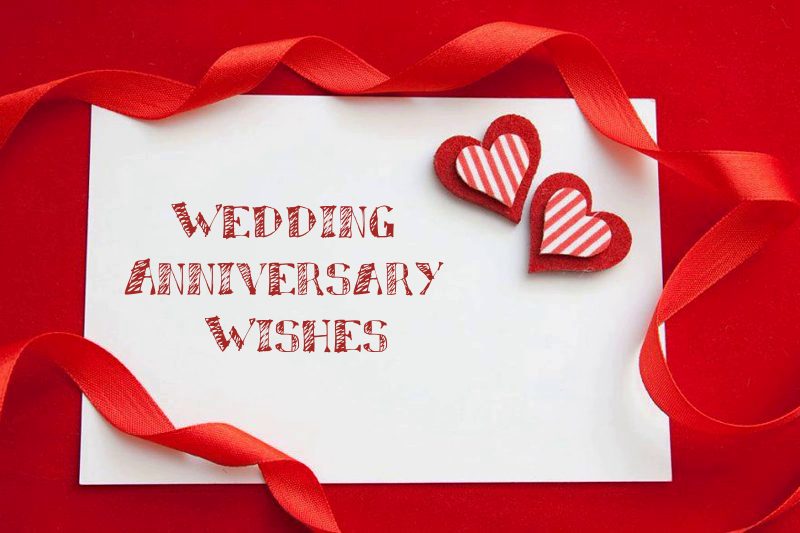 Happy Wedding Anniversary Wishes
❀ Thanks for giving me a lifetime of blissful memories. Happy Anniversary
❀ We've been together for years, and each day proves that we were made for each other more and more.Happy anniversary, darling!
❀ Many best wishes and blessings to you on your anniversary. Happy anniversary to you.
❀ The echo of your love and the sound of the sea have a few things in common; they are both constant, soulful, and eternal. Happy Anniversary.
❀ The two of you shine with the love you share for each other. May that light get ever brighter on your wedding anniversary and every year that goes by.
❀ Here's to a wonderful year past and an exciting one to come. Bring on the next – every day is a chance to make your dreams come true.
❀ The fragrance of your relationship makes my belief strong in companionship!!! Congratulations on your wedding anniversary!!!
❀ Once you are married, romance flies out of the window… But thankfully, we are as Cupid-struck as ever. Happy Anniversary.
❀ Love and much happiness to one of our all-time favorite couples.
❀ I believe everything happens for a reason because it led me to you. I love you. Happy anniversary.
❀ I am thinking of you today with loving wishes, as you reflect on all the wonderful memories of your past together and on your future dreams together.
❀ So I bought a bottle of the same Champagne we drank on our wedding day, so we can raise a glass to the last decade! Many more to come!
❀ Nothing in this world could be more pure than twenty years of your relationship, I'm very sure!!! Congratulations on your wedding anniversary!
❀ Wishing you many more blissful decades together. Happy 10th anniversary!
❀ Forever wouldn't be long enough with you. Happy Anniversary, with all my love.
Romantic Wedding Anniversary Messages
❀ Our anniversary will remind you of the happiest times of our relationship, but it will also remind us of the hardships you had to go through to get to those happy times. I wish you the best!
❀ May this day bring you a lot of happiness. May the years ahead of us be spent loving and caring for one another. Happy Anniversary!
❀ I don't know how I got so lucky to get a girl like you, but I'm thankful every single day.
❀ Happy wedding anniversary to the lovely couple! You have filled your lives with magic, and I know that you will never lose this connection.
❀ Happy Anniversary Day! It is a great pleasure to wish you both this great day of your anniversary. May God bless you both and make your relationship stronger.
❀ More love, more joy, more happiness. These are the things I wish for you on this particular day.
❀ Like the smiles in our selfies, you light up my life. I love you! Happy Anniversary.
❀ I am so blessed to be married to someone as wonderful as you. I love you so much! Happy Anniversary, darling.
❀ You two have this marriage thing down pat. What a great skill to master! Congrats!
❀ Such a divine union can only be formed by two good and pure hearts. May the love we share grow deeper in our hearts as our relationship grows stronger over time!
❀ We've been able to get through the most difficult times of our lives hand in hand and heart to heart, which makes this an even sweeter anniversary. I wouldn't do it with anyone else on the planet. Happy Anniversary!
❀ Happy Anniversary, dear! Your love is one-of-a-kind and will last a lifetime. It's the kind that gets stronger over time and inspires others.
❀ I just wanted to send you my best wishes and congratulate you both on your anniversary! You guys make it look easy.
❀ I think it's time to let you know that I've been dating someone, and I love them. It's you!
Wonderful Wedding Anniversary Wishes For Brother
❀ Congratulations to both of you on completing the number of years of your marriage. This is just a small milestone among many others that are still to come. Congratulations on your wedding anniversary!
❀ Happy Wedding Anniversary to my beautiful bhabhi and amazing bhai. Congrats on completing another wonderful year together. Lots of love to both of you. 
❀ Heartiest wishes on your wedding anniversary today. It's a pleasure to see the two of you sharing all the love and joy and working towards your great future together!
❀ Happy Wedding Anniversary to my beautiful bhabhi and amazing bhai. Congrats on completing another wonderful year together. Lots of love to both of you. 
❀ My dear brother, the love you share is a precious gift. Happy Anniversary! 
❀ May your love keep you young as you grow old together.Happy Anniversary to the most adorable couple I have ever known.
Uplifting Wedding Anniversary Wishes For Sister
❀ Your love is just like it is in the movies, novels, and dramas. It's an ideal love story for other couples, and I am proud of you, little sister, for having taken the marital responsibility with nothing but love. On your wedding anniversary, best wishes and true blessings.
❀ My dearest sister, I wish you the best that this life has to offer, starting with love. 😀 A very Happy Wedding Anniversary to you and Jiju. Always pray for your happiness and health. 
❀ You two are the perfect example of an ideal marriage. May the almighty bless your heart forever with loads of joy and love unsurmountable. Happy Anniversary.
❀ Dear Di and Jiju, The best thing about your wedding is that it gave me a second version of my parents—only more lenient and friendly. 😀 hahaha! I am so lucky to have you both in my life. Thank you for motivating me every day. 
❀ Never let go of the beautiful love that binds you. Stay together. Stay happy. Stay blessed. Happy Anniversary!
❀ Both of you look just perfect together. May you keep up with this perfection and hold onto it till the end of your lives. happiest anniversary.
❀ I want to wish you and your husband a very peaceful and romantic married life ahead. You have made it obvious that with true love, people can do the impossible. Happy Anniversary!
Heart-Warming Wedding Anniversary Wishes For Parents
❀ To the most perfect couple on their 30th anniversary: you guys are the embodiment of what true love looks like and what a successful marriage should be. The best wedding anniversary ever.
❀ It takes two very special people to really weather the storms of life together and still smile years later. Happy Anniversary!
❀ When Isee you, I get the real meaning of the wedding. You are the best example of an ideal couple. Happy anniversary to you both.
❀ May your biggest challenge be limited to making every anniversary better than the previous one. Happy anniversary to you both.
❀ I hope to have love like yours someday. Happy Anniversary, Mom and Dad!
❀ I love you, Ma and Pa. You guys are my heroes. You made me who I am today. I'm so lucky and proud to have you guys. A very happy anniversary to both of you.
❀ True love isn't found, it is built. You showed us this.
❀ Celebrate this special day in your lives and the happiness you have together.
❀ It is no wonder, because of your marital bliss, that we have been able to live in so much harmony and have learnt togetherness. I adore you both, mom and dad.
❀ Being able to witness your love and your wonderful marriage every day is a blessing for mom and dad, and my day becomes a whole lot brighter. Happy anniversary, you guys!
❀ There is no more lovely, friendly, and charming relationship, communion, or company than a good marriage. Happy Anniversary to both of you!
❀ Best and warmest wishes to both of you on your anniversary today. May your lives never get dull and you keep living together forever.
Heart Touching Wedding Anniversary Wishes For Quotes
❀ As the years pass, love becomes more abundant, fast, and poignant.
❀ Yours is the best couple I've ever known. These two are made for each other. Happy Anniversary with lots of best wishes.
❀ You might not have been my first love, but you were the love that made all the other loves irrelevant-Rupi Kaur
❀ I could walk around my garden all day if I had a flower for every time I thought about you.
❀ Real love stories never have endings. Bach, Richard
❀ Being in a long marriage is similar to having a nice cup of coffee every morning; I may have it every day, but I still enjoy it. —Mr. Stephen Gains
Wedding Anniversary Quotes For Son And Daughters
❀ Take time out from real life to celebrate you and your love.
❀ Sending my warm wishes to both of you on your anniversary. You two made me realise happily ever after.
❀ May heaven bless you so you can overcome any difficulties and enjoy every moment of happiness together. Happy anniversary, you two.
❀ I still have a good feeling about you two.
❀ Happy anniversary, dear son. You have grown into a mature man. We feel so lucky to watch you and your daughter-in-law so in love—happy anniversary to you two.
Best Wedding Anniversary Wishes For Friend
❀ I know that your love doesn't need a day for celebration, but since it is the day when two beautiful souls came together and tied the knot, it needs the needful appreciation. So, here's me wishing you a great day ahead, my friend. Happy Anniversary!
❀ Forget the bad and remember the good times. Forget the sad and cheer on the happy memories. Take pride in your love that has lasted so long that even angels can't stop singing in joy. Happy Anniversary!
❀ If Santa asks me about my relationship goals this year, can I show him a picture of you two?
❀ Congratulations! You have completed another year of marriage with your beloved one.
❀ Happy Anniversary!
❀ You both make a beautiful, wonderful couple, and it's so great to see you two create so much magic in each other's lives for so many years now. It's lovely to see you both caring so much for each other. Happy wedding anniversary, you two!
❀ Happy Anniversary to you both! May the almighty keep blessing your marriage with love, happiness, and loads of adventures.
❀ On this very special day of yours, I am sending you all my warm love. I hope you get blessed with the very ounce of happiness in the world. Happy Wedding Anniversary.
❀ You two are so great to know and be around. Can you adopt me?
❀ The best kind of love is one that can make you come alive on the inside and strive to be everything you want to be.
Cute Wedding Anniversary Wishes For Wife
❀ Happy anniversary to the most amazing couple who have always been the embodiment of true love. For me, you are the best example of an ideal couple. Accept my heartiest wishes on your wedding anniversary.
❀ On this day and every day, I want you to know how much you are valued for the blessing that you are. I love you! Happy Anniversary!
❀ Do you know what I love the most about our relationship? We can laugh at the silliest jokes together, do spontaneous things to enjoy our time, cook together and clean together, and most importantly, we can count on each other for life. Happy Wedding Anniversary, honey. 
❀ Laughing with you is the best part of my day, and I can't believe I get to do that every day. Happy Anniversary!
❀ Happy Wedding Anniversary to the most wonderful woman (or man) who has been there for me at every step for the past few years.There are so many reasons to be happy in my life, but you are my favorite.
❀ Sure, our anniversary is just a day's celebration, but our marriage is definitely a timeless union. A happy and full of love, timeless union. Happy Anniversary and let's make this one memorable too.
❀ Happy anniversary to my best friend and soul mate. To a beautiful wife and a blessed life!
❀ It is you who have taught me to cherish each and every moment of life. Thank you for just being there with a light that I can hold onto whenever I face the darkness in my life. Happy Anniversary to my sweetest (wife/husband)!
❀ Having a wife like you means a lot to me. Because of you, my life is so peaceful and enjoyable. Thank you for never leaving my side. Happy Anniversary, Mrs.
❀ Just like how the blend of two colours makes a new shade, the blend of trust and understanding has made a beautiful marriage like ours. I adore you, baby, and I wish you a happy anniversary.
❀ Today is the best day to tell you I am still so much in love with you and I fall in love with you every day. Happy Anniversary, Wife!
❀ You're everything I had hoped for. You are more than I could have ever imagined. You are my dream come true. I love you with all my heart. Happy wedding anniversary to my beautiful wife!
Amazing Wedding Anniversary Wishes For Husband
❀ Happy Anniversary! You have shared so much love and laughter over your years, and I know there will be many more joyful moments in your future. I wish you all the happiness on your wedding anniversary and on every married day to come.
❀ You guys set goals for a relationship that has no bounds but love and care for each other, support and friendship, and love all the way. Happy Anniversary to both of you.
❀ May you both live to celebrate a century of your wonderful journey together.May each day you share be more beautiful than the last. May God bless you.
❀ Today, on our anniversary, I want you to know how much I've enjoyed annoying you all this time and how excited I am to keep doing it forever.
❀ Growing old with you is the best thing that I can ever dream of. So I'm going to dream this dream and chase it and turn it into a reality step by step, day by day. I love you.
❀ I'm the luckiest wife in the world because I have the most caring husband. You always make me feel loved and appreciated. Thank you for your support, love, and care. Happy Anniversary.
❀ Another year, another anniversary, another milestone, and here we are, still so much in love with each other. I am so grateful to God for showering us with so many years of togetherness and happiness. You make this marriage a success, baby!
❀ If I had the choice to live my life over again, the only thing I'm going to change is that I'm going to find you sooner and make sure to love you longer! Happy Wedding Anniversary to us!
❀ It's only because of you that I feel inspired enough to do all that I desire to do and to be all that I want to be. Thank you for always believing in me and showing that faith in me and my capabilities. I adore you and send you my heartfelt anniversary greetings.
❀ Happy Wedding Anniversary, love. You are so perfect at being a husband and a father. It fills my heart with pride and joy to see you living life to the fullest and being there for the kids through everything.
Awesome Wedding Anniversary Wishes For Couple
❀ Wedding Anniversary Messages for Couples
❀ Growing up with you has been a priceless experience.Happy Anniversary, my love!
❀ They say love can be blind, but marriage brings love into reality.
❀ If love is the force that drives out all our worries in life, then marriage should be a daily guide to life's precious moments.
❀ In faith of a brighter future, love is often the one thing that propels us towards greatness. Here is hoping that your marriage will be a forever reminder of these truths.
❀ Whenever I witness a year of our togetherness passing by, all the sacrifices seem worth it.
❀ A kiss can melt away worries, a smile can soften a heart, and a touch can bring immeasurable joy. I hope your marriage is filled with all this and more.
❀ When they've spent a whole year together, that says something, doesn't it?
❀ Happy Anniversary to my better half. I feel loved each time you touch my hand and smile. I feel grateful that we have the happiness life gives to a selected few.
❀ A happy marriage does not just happen to people; they have to make it a happy one. Congratulations to both of you for making it work for such a long time. Happy Anniversary!
❀ I haven't seen the future, but if our past is anything to go by, it is going to be fantastic and romantic, amazing and exciting, heady and steady. Happy Anniversary.
❀ Most couples might struggle to live as one, but we have found the perfect balance in marriage, joining work, love, and happiness in harmony. Happy Anniversary.
Funny Wedding Anniversary Wishes
❀ I wish I had more marriage anniversaries with you than my age. It's so sad that I haven't been married to you since my birth. But I'll be celebrating my marriage with you till my death!
❀ Love makes the world go round. You two must be dizzy! Congrats to the happy couple!
❀ It's pretty cool that we've been together for however long we've been together. Happy Anniversary!
❀ I don't know why more people aren't jealous of you – you married the most beautiful, funny person in the world. I guess I did OK with you too…
❀ The secret to a happy marriage is knowing what your other half likes in bed. Most of the time, it's a cup of tea and a bacon sandwich.
Milestone Wedding Anniversary Wishes
❀ Another year spent together, with many more on the horizon. Best wishes to a couple who know how to make it work!
❀ [Fifty]—now there's a number you can be proud of.
❀ I wish you a happy 20th anniversary!this remarkable anniversary of yours will be as amazingly beautiful as your union. May God bless you and grant you everlasting happiness and love.
❀ Love and loyalty are the two ingredients of marriage that guarantee an everlasting bond. May you have a wonderful celebration of this day. Congratulations!
❀ You could write a book of poems based on your obvious love for one another. Happy anniversary!
❀ Lots of love, hugs, kisses, and best wishes on this amazing day. I wish you continued love and happiness!
❀ It's another year, and that means it's another year to celebrate! Have the best anniversary possible!
❀ May your anniversary be a time to celebrate all the happiness and joy your love has brought. Happy Anniversary! May you be able to celebrate many more years together!
❀ Congratulations on your [5th] anniversary, babe.I love you more and more every year!
❀ Of those, I've been lucky to call you my husband. I'm so proud of the family we've built. Here's to many more years together.
❀ After all these years, there's no place I would rather be than right here with you. Congratulations on your [50th] anniversary!
❀ You are the best decision I ever made in my life. And if every year is like this one, then we're in for the best life ever. I love you. Thank you for all the adventures.
❀ Happy 40th wedding anniversary!Four solid decades have come and gone… And your marriage is still around and more beautiful than ever! I applaud you for this incredible achievement.
❀ I will remember you in our prayers on this special day of yours. May you always be surrounded by the warm love that keeps you together. Happy Anniversary!
Heartfelt Happy Anniversary Messages With Images
♥ Funny anniversary wishes for a wedding, Take a look at some of the most famous marriage phrases to get in the mood for the holidays—such a lifelong commitment deserves only the best! Explore our ideas for the 50th wedding anniversary wishes to inspire your creativity and make it a memorable occasion!
♥ Weddings are lovely conciliations of two individuals who are deeply in love with one another. And, while love does not require anyone's permission, weddings are more of a heavenly bond shared by two people, not just emotionally, psychologically, and physically, but also socially and legally, because they are legally binding. And with each passing year, the treasured promises that two individuals have made to one another are renewed once again.
♥ In the case of friends who are celebrating an anniversary, it's a great gesture to send them a greeting, whether it's in the form of a text or a card, to wish them a happy anniversary. If you're thinking of doing so as well, think of giving a memorable wedding present or a more typical anniversary gift by year.
♥ No matter if you're pals with one half or both halves of the pair, you may make their anniversary greetings warm and meaningful by demonstrating that you are familiar with the relationship. Share the kind of heartfelt praise, bizarre humor, or personal reminiscence that only a friend can provide.
♥ When a sibling's elder sister gets married, it is one of the most anticipated days of their lives. Every aspect of the wedding, from the bridal attire to going down the aisle with your sister under the canopy of blessings draped above her head, creates a lasting memory that will last a lifetime. However, returning to your normal life after spending time with your old sister is never easy. Your crime partner, your confidante, the one who has protected you from your parents' wrath time and time again, is suddenly no longer residing under the same roof, and the house feels empty as a consequence.
♥ But do you know what's significant and unique? She has embarked on a new adventure with the love of her life, and she is ready to venture into uncharted territory in her life. You will eventually become accustomed to hooking up with your sister on weekends and going on long trips with her since she is the best friend you will never be able to replace.
♥ Here are a few marriage anniversary wishes that will exactly convey how you feel: Congratulations on the anniversaries of your friends' or siblings' weddings.
♥ Do you have a reputation for being a bit of a prankster? Pick one of the following amusing wedding anniversary wishes:
♥ Anniversary celebrations are usually memorable. It is a special day that occurs just once a year. This is a good day to convey your sentiments to your spouse or significant other. This special day is used to commemorate the love, happiness, and years of marriage that a couple has had together. You owe it to your friends and family to express your congratulations on their wedding anniversaries.
♥ When your friends and family get together to celebrate their years of love and trust, you should be there to see it. Browse through our collection of wishes for married couples to find the perfect way to show your appreciation and affection for your favorite spouse.
♥ Each person has a very particular bond with their uncle and aunt that is extremely important to them. They might be acquaintances of your parents or relatives from both your maternal and paternal families. After their parents, they are the ones to look up to for support, affection, and a sense of belonging and community.
♥ Although women are often more emotional than men, males must also communicate their emotions. It's possible to make your anniversary the most romantic and unforgettable event of your life with a little help. We hope that our wedding anniversary wishes for her wife make her weep tears of delight!
♥ Messages for an anniversary that is heartfeltly Taking the time to express all of your warm and happy anniversary greetings with your loved ones is a wonderful idea since it will help them better comprehend your thoughts on this important day in their lives.
♥ Congratulations on your wife's wedding anniversary. What happens if it's your wedding anniversary? Don't miss out on the opportunity to express your gratitude to your significant other for the time you have spent together.
♥ The dynamics of modern family ties may be complicated, so it's best to stick with names and family titles that seem natural to you. When addressing your father and his wife (who is not your mother) as "Dad and Susan," it is allowed to use the phrase "Dear Dad and Susan…" in your anniversary greetings to them.
♥ It might be difficult to determine when to begin commemorating dating anniversaries. Irrespective of whether or not you choose to make them a homemade anniversary present or get them something lovely, sending a heartfelt note will go a long way no matter how long you've been married. A personalized present may go a long way, and you can never go wrong with a matte photo card as a greeting card.
♥ Anniversary greetings that are amusing The actual date of a wedding anniversary are the day on which the ceremony took place, but it may also be a ceremony held to commemorate the pleasure of marriage and to express gratitude for still being together after so many years have passed. Couples can use this anniversary as an occasion to renew their vows to one another, and in this case, happy wedding anniversary quotes are appropriate.
♥ A wedding anniversary is more than just a day to commemorate the union of two people. On this day, people remember and appreciate the love and devotion that two individuals have for one another. Marriages that last are extremely rare, and it is critical to commit to the parts of a relationship that promote long-term success and happiness.
♥ These dates are known as wedding anniversaries, and they provide us with an opportunity to commemorate two people's commitment to one another every year. As a result, we have compiled the most beautiful wedding anniversary wishes and messages that you may send to a couple on their wedding anniversary and express your admiration for their adorably romantic relationship.
♥ So, what do you like to get as a gift for your 50th wedding anniversary? What do you say to commemorate a milestone as momentous as your 50th wedding anniversary?
♥ Gift certificates to Cooper's are the ideal anniversary present, so send an anniversary card and a gift certificate today!
♥ All of these phrases are intended to be written on a wedding anniversary card to a couple by the sender. They're romantic and charming, and the couple will genuinely appreciate them and their thoughtfulness. People send anniversary greetings for a wedding to show their happiness at having reached the next year and their hopes for the future.
♥ Congratulations on your wife's wedding anniversary. We hope that these wedding anniversary greetings convey exactly what you meant to communicate simply and elegantly.
♥ The internet is currently flooded with the same old wedding anniversary wishes, which have been used so many times that they've become cliched at this point. The celebration of a couple's wedding anniversary is more than simply another year of togetherness; it is about confronting all of life's challenges and enjoying the journey while basking in the pleasure of being with someone special. This is because of the special feelings and unique sensations that come with anniversary greetings that are unique and come from the heart, which are needed because of this.