80 Unconditional Love Mother Daughter Messages – Lovely Wordings
Mother Daughter Messages: For anyone who needs a reminder of how priceless the bond between a mother and a daughter is, mother-daughter quotes are ideal.
Best l Love Mother Daughter Messages: With these encouraging words serving as a lovely reminder, take a few moments out of your day to embrace the unique relationship between mother and daughter. Don't forget to go through our collection of quotes from parents about support and family.
Famous Mother-Daughter Quotes
1. "A mother is not a person to lean on but a person to make leaning unnecessary." ~ Dorothy C Fisher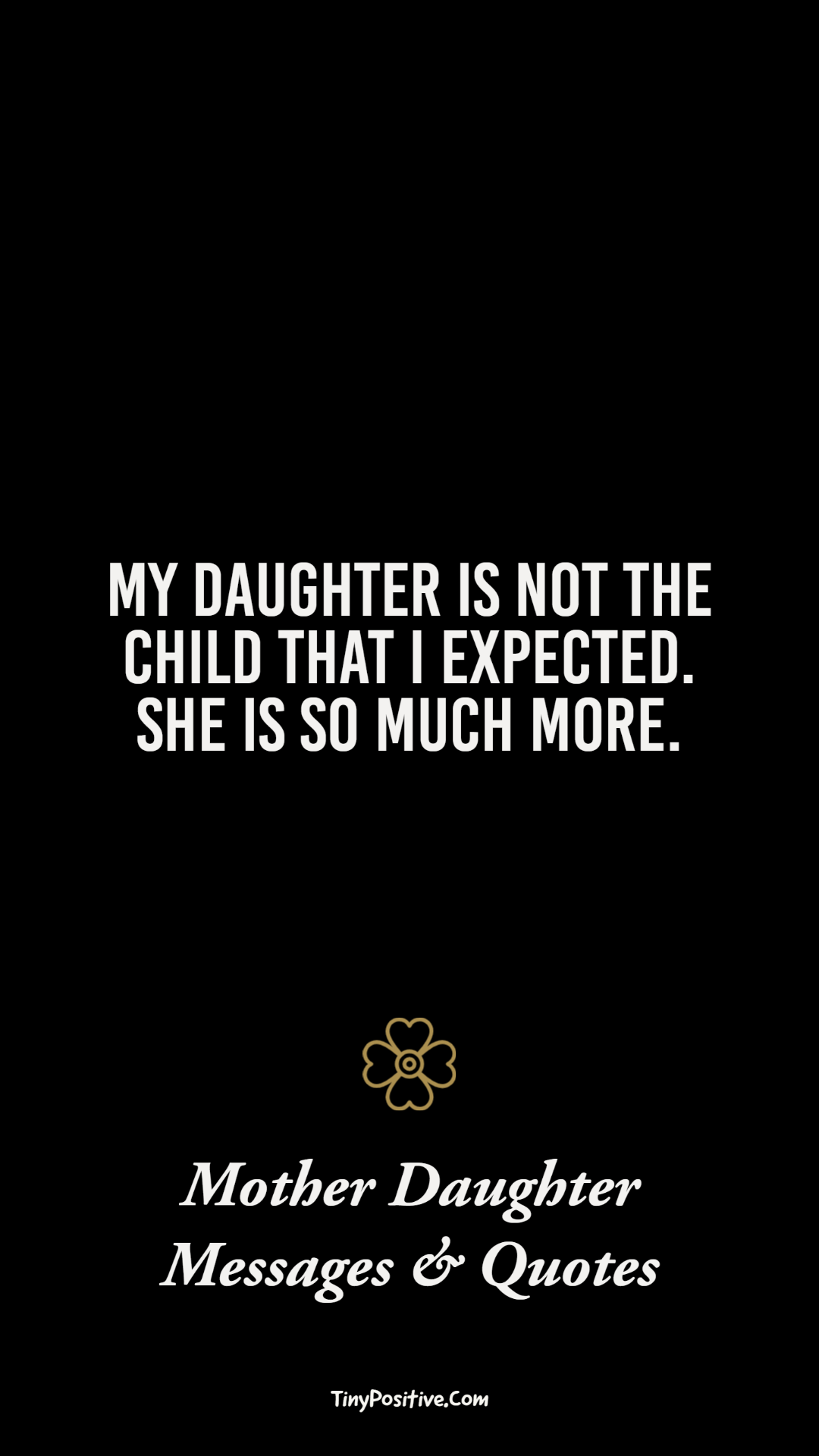 2. "My daughter is not the child that I expected. She is so much more." – Brenda Kostiuk
3. "Every day I become a little more like my mother… and I couldn't be prouder!" – Unknown
4. "My daughter is a beautiful gift, that brings warmth to my heart, and brightness to each day." – Unknown
5. "I am in a long-distance relationship. It's been six months since I met my mom."― Leena Duwadi
6. "I love it when my daughter says I am a supermom." – Unknown
7. "Mothers who work full time – they're the real heroes."— Kate Winslet
Mother Daughter Quotes Expressing Unconditional Love
8. "Of all the haunting moments of motherhood, few rank with hearing your own words come out of your daughter's mouth." – Victoria Secunda
9. "Now the girl was a mother, and she had her very own daughter; a clever, sweet creature who filled her life with color and beauty." – Nicole Lesperance
10. "Behind every young child who believes in himself is a parent who believed first." – Matthew L. Jacobson
11. "A daughter is the happy memories of the past, the joyful moments of the present, and the hope and promise of the future." – Unknown
12. "My Mother: She is beautiful, softened at the edges and tempered with a spine of steel. I want to grow old and be like her." – Jodi Picoult
13. "There were times when, in middle school and junior high, I didn't have a lot of friends. But my mom was always my friend. Always."— Taylor Swift
14. "When life gets hard and you feel all alone, remember you mean the world to somebody, and that somebody calls you mom." – Unknown
15. "The living mother-daughter relationship, you learn over and over again, is a constant choice between adoption and acceptance."— Kelly Corrigan
16. "Sometimes the smallest things take up the most room in your heart." – Winnie the Pooh
I Love My Daughter Quotes And Daughters Are Blessings Messages
17. "There's no way to be a perfect mother and a million ways to be a good one." – Jill Churchill
18. "To my daughter. Never forget that I love you. Life is filled with hard times and good times. Learn from everything you can. Be the woman I know you can be. Mom"
19. "Her mother would tell her she was beautiful and that everything was all right." – Sarah Addison Allen
20. "I can not be the best daughter for you because I know how many troubles you've experienced with me. But I want to tell you that for me, you are the best mom ever." – Unknown
21. "My daughter is my greatest inspiration." – Whitney Houston
22. "A mom is a daughter's "first" friend. And, through life, becomes her best friend." – Vicki Reece
23. "My mother is my root. my foundation. She planted the seed that I base my life on and that is the belief that the ability to achieve starts in your mind." – Unknown
24. "A mother holds her daughter's hand for a little while but holds her heart forever." – Unknown
Mother-Daughter Messages The Love, Support, And Strength
25. "A mother is the only person in the world who can turn a daughter's worries and fears into happiness." — Anonymous
26. "What sunshine is to flowers, and tides are to the sea, is nowhere as important as you're being in my life is to me." – C. Stellar
27. "Mom was the midwife who delivered stories to me."― Rachael Hanel
28. "Build yourself to be a woman when your daughter sees you. She would know you as a woman who works for her goals. Set an example." – Unknown
29. "Yes, it's quite amazing how I continue to shock my mother even after all these years together" – Eloisa James
30. "She is my heart, my soul, my "best thing that ever happened to me", the source of many laughs and a few tears. She is my daughter and she is my world." – Unknown
31. "My mom taught me that a woman's mind should be the most beautiful part of her." – Sonya Teclai
Beautiful Mother Daughter Quotes And Images
32. "Mother is a verb. It's something you do. Not just who you are." – Cheryl Lacey Donovan
33. "My mother and my mother's mother were as silly and stumbling as I was when they were girls… Still, the love from my heart is overflowing, as bright and crimson as the heated metal in a blacksmith's forge." – Kim Dong Hwa
34. "The more a daughter knows the details of her mother's life the stronger the daughter." – Anita Diamant
35. "There's nothing as powerful as a mother's love and there's nothing more healing than a child's soul." – Unknown
36. "To my daughter, I will say, 'See your beauty without a compliment or a mirror.'" — Anonymous
37. "Motherhood is the greatest thing and the hardest thing." – Ricki Lake
38. "The older I get, the more I see The power of that young woman, my mother." – Sharon Olds
Best Mother And Daughter Quotes Relationship Advice
39. "We are our mothers' daughters, are we not?"― Corey Ann Haydu
40. "She's my best friend—she's everything to me. It's always just been me and her against the world."― Jacquelyn Middleton
41. "I enjoy my life with my daughter. She is one of my favorite people on this planet." – Colleen O'Grady
42. "From a little girl so very small, how and when did you get so tall?" ― Karen Mortensen
43. "Mother-daughter disagreements were, in hindsight, basically mother stating the truth and daughter taking her own sweet time coming around." – Barbara Delinsky
44. "Mothers and daughters become the closest, when daughters become mothers." – Unknown
45. "A relationship between a mother and a daughter shouldn't be built on the shoulders of a man." – Emily A. Myers
46. "When someone asks you where you came from, the answer is your mother. It's so much more than love. Even when there's no love, it's so much more than anything else in your life." –Anna Quindlen
Mother-Daughter Messages Short Unbreakable Mother Daughter Bond Quotes
47. "A son is a son till he takes him as a wife, a daughter is a daughter all of her life." — Irish Proverb
48. "I love our daughters more than anything in the world, more than life itself. So for me, being Mom-in-Chief is, and will always be, job number one." – Michelle Obama
49. "Each day I give thanks for you and appreciate all that you do." – Catherine Pulsifer
50. "A little girl, asked where her home was, replied, "Where mother is." – Keith L. Brooks
51. "You are my daughter, not of my blood, but of my heart." – Elizabeth Lim
52. "The greatest gift every mother can have is a daughter. Someone who sings with her, who helps in cleaning the house and someone, she can be with her most of the time." – Unknown
53. "I am unapologetically and unabashedly deeply biased toward my mother." – Unknown
54. "My mother is a poem I'll never be able to write, though everything I write is a poem to my mother." – Sharon Doubiago
Mother Daughter Quotes To Show Mama Some Love
55. "Was that what it meant to be a daughter? To have hair that smelled of your mother? To use the same soap? Or was it a shared passion, a shared frustration?" – Pip Williams
56. "Mother and daughter like spoons in a drawer." – Maggie Stiefvater
57. "I love my mother as trees love water and sunshine. She helps me grow, prosper, and reach great heights." – Terry Guillemets
58. "My mom is a strong-willed lady. She taught me to believe in myself no matter what anybody else said." – Tracey Edmonds
59. "Even if the whole world was throwing rocks at you, if you had your mother at your back, you'd be OK." – JoJo Moyes
60. "A mother is one to whom you hurry when you are troubled." – Emily Dickinson
61. "One of the most important relationships we'll have is the relationship we have with our mothers." – Iyanla Vanzant
62. "No matter how old you are, you always want your mother's love and acceptance. I guess I'm hoping one day I'll get it back." – Hilary Grossman
Funny Mother Daughter Quotes And Like Mother Like Daughter Messages
63. "You were my home, Mother. I had no home but you." – Janet Fitch
64. "To describe my mother would be to write about a hurricane in its perfect power. Or the climbing, falling colors of a rainbow." – Maya Angelou
65. "A daughter is a mother's gender partner, her closest ally in the family confederacy, an extension of herself. And mothers are their daughters' role model, their biological and emotional road map, the arbiter of all their relationships." – Victoria Secunda
66. "The biggest surprise about motherhood was how completely and totally it changed how I look at myself, and what I believe I deserve, for the better." – Unknown
67. "Happiness is mother and daughter time."
68. "No mother and daughter ever live apart, no matter what the distance between them." — Christie Watson
69. "I miss thee, my Mother! Thy image is still, the deepest impression on my heart." – Eliza Cook
Mother Daughter Quotes – Inspirational Words Of Wisdom
70. "Life is tough my darling, but so are you." – Stephanie Bennett-Henry
71. "Daughters are like flowers, they fill the world with beauty, and sometimes attract pests." – Unknown
72. "Parents exist in children,' Grandmother said to bolster my confidence. 'Your mother will always exist in you. She will give you strength wherever you go."― Lisa See
73. "When you have a daughter, you realized right then what it means to love." – Unknown
74. "I am a strong woman because a strong woman raised me."
75. "God couldn't be everywhere, so that is why he invented mothers." —Diane Keaton
76. "A mother's treasure is her daughter." – Catherine Pulsifer
77. Other beautiful mother daughter quotes
78. "You're a very special lady, who showered me with love. I am thankful for you as I've told God above." – Charly Lester
79. "Being a mother and grandmother is the best of the best in my life. My grandchildren multiply the joy my daughters bring me." – Alexandra Stoddard
80. "A mother-daughter bond is the perfect blessing, so that makes me one blessed mom, because I have YOU."― Stephanie Lahart
If you have a mother, she will always be able to comprehend you if you are a daughter. You'll always prefer to confide in your mother above anybody else, even as an adult.
Broken Mother-Daughter Relationships Quotes And Word For Mother-Daughter Bond
The chance exists for mothers to impart life lessons to their daughters. They serve as their daughter's mentor, confidant, and lifelong friend.
Your favorite among these quotations about mothers and daughters? One of the strongest relationships is mother and daughter. Nothing in the world compares to the bond between a mother and her daughter.
The mother-daughter relationship is unique because mothers and daughters have a profound knowledge of one another. These sayings ought to motivate you to acknowledge the unwavering bond between mother and daughter.
Which of these quotations about mothers and daughters spoke to you the most? Do you have any further favorite sayings to share? Comment below with your thoughts and let us know. Please tell us everything about it.
What should I tell my daughter? In every regard, the mother-daughter relationship is unique. Here are some lovely sayings to honor the special and admirable bond between a mother and daughter in that aspect.