70 Heart Touching Happy Birthday Son in Law Wishes
Happy Birthday Son in Law: A list of ways to say Happy Birthday to a son-in-law. These birthday wishes for your son-in-law range from sincere to just plain silly. I hope you got what you were looking for, now it's time to share it with your friends and let them know about these wishes so that in the future they will also be able to wish their son-in-law a very happy birthday.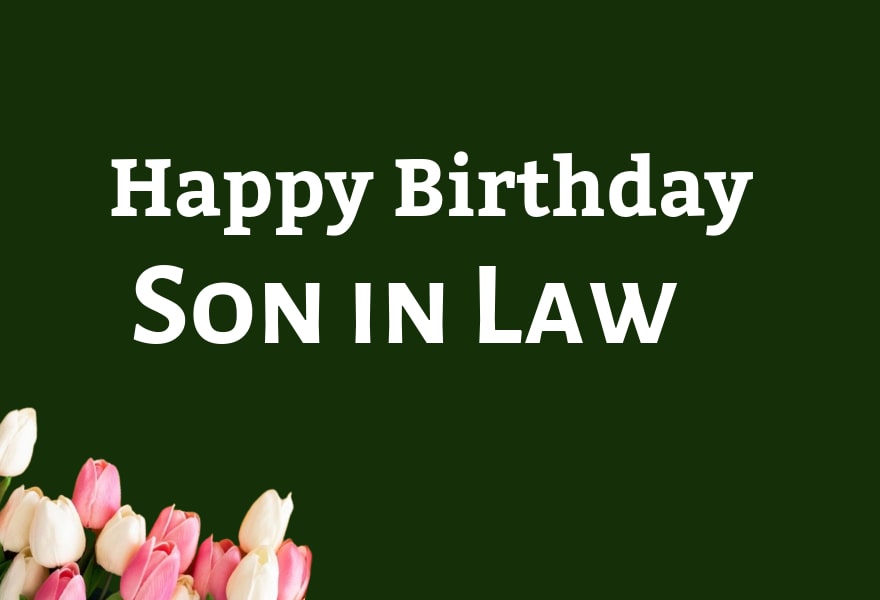 1. Happy birthday, to our son-in-law. We have enjoyed getting to know you and look forward to getting to know you more and more through the years. Thank you for being who you are, and sharing you with us.
2. You're witty, smart, funny and caring. I couldn't imagine seeing my daughter with anyone else! Happy birthday, big guy, we love you so much!
3. Love is a powerful word that creates a serene echo in your life. Its music will have the perfect tune until you disagree with your wife. Happy birthday, Son-in-law. Enjoy your life while sitting on the seesaw!
4. A good son-in-law is a family, but a great son-in-law is a friend. Wishing you a happy and memorable birthday, full of the things that make you happy and remind you that you are cherished.
5. Happy birthday, to a son-in-law who stops at nothing to provide for his family. Wishing you all the best, today and every day.
6. Happiest of birthdays to our very special bonus son.
7. Let there be light, laughter, and love at your home forever! You are an amazing son-in-law and we love you endlessly! Happy birthday!
8. Happy Birthday! It's so heartwarming to see how much you love and care for my daughter. I couldn't have hoped for a better match for her. Enjoy your day and the many blessings ahead.
9. You're like a pillar in my life whom I trust so much. Happy birthday, honey. May you always be happy in life like you are. We love you so much.
10. Happy birthday to a man I respect and love. I'm so proud to call you my son.
11. Dear son-in-law, you are a blessing to us and our family and especially to our daughter. We wish you all achievements in every stage of life. Happy birthday and so many warm hugs!
12. We could not express the joy of having you in our daughter's life. We know that you always keep her happy and safe. Wishing you love and the loveliest happy birthday!
13. Wish we could tell you you'll have birthday breakfast in bed, but cheffing it in the kitchen just isn't [your child name]'s bag. You'll have to make your pancakes, but they're good for the candle!
14. Happy Birthday to a guy who was truly made for our daughter.
15. I know you don't like coconut, so I made you a chocolate cake. Don't you ever dare say that your mother-in-law doesn't treat you well! Happy birthday, buddy, I wish you lots of love and happiness!
16. Thank you for making our daughter feel so loved. We don't know what we would do without you. You're a blessing. Happy birthday!
17. As any parent would, I had my doubts about you, but I would have never thought that you could be so perfect for my baby girl! Happy birthday, dude, we like you!
18. Happy Birthday to a strong, smart, ruggedly handsome man. You know what they say – girls always choose a husband who reminds them of their father!
19. Your love, patience, and devotion to your family make us beam with pride that you are our son-in-law. Happy birthday to you.
20. Wishing a happy birthday, to a son-in-law who has brought so much light and joy into our family. We're so grateful to be making memories with you as a family.
21. You are one in a million. The perfect catch who our daughter loves with all our heart, and we love you just as much. Happy birthday son in law.
22. Mothers-in-law are notoriously hard to please, but I couldn't be more pleased that you married my daughter. Happy Birthday to an amazing son-in-law!
23. You don't need to be funny at all our son-in-law. The best thing is that our daughter is so funny. You don't need to do a bit! Wishing you the funniest happy birthday!
24. In-law relationships can be tricky. Guess we got lucky! Happy birthday.
25. On a piece of paper, we're related by law. But in our hearts, we are related by love. Happy birthday son. May your birthday turn out to be like the life you've given our daughter – amazing.
26. Happy birthday to my giving, kind, considerate son-in-law. Words can never express how glad I am to have you as part of the family. You have given me immeasurable happiness because of who you are, with and to our precious daughter. Thank you for all that you do for her. It means so very much. Happy birthday.
27. May you become the ideal of success and achievement. May you become an inspiring personality in the world. Lots of love and happy birthday son-in-law!
28. Why don't we celebrate this day together with family rather than celebrating it alone, happy birthday son in law
29. I am becoming old and I can't able to care for my daughter that's why I gave her a hand to care by you, I hope you will not disappoint me, happy birthday son in law
30. You're an immensely talented musician and such a kind human from the heart. We love you, and we are so grateful to have you as our son-in-law.
31. There are only two things that make a man, the man. Determination and courage. You may not have anything but you must have courage. Have a birthday blast son-in-law!
32. It's your "smile and nods at the in-laws" birthday! Enjoy every moment.
33. My daughter picked the perfect life partner. I am so happy for both of you. Happy birthday my dear son-in-law.
34. Happy birthday to the guy who helped make me a grandma—your crew better spoil you today!
35. What blessings we can give you!? May you have all. May you forever have a beautiful family with our daughter. Happiest birthday son-in-law!
36. We wish that in every birth we have a son-in-law like you. You are a very good man. We love you. We are wishing you lovely happy birthday wishes and success!
37. I am glad that you are in charge of my daughter and make her happy always, happy birthday son in law
38. "Life is not measured by the number of breaths we take, but by the moments that take our breath away." – Maya Angelou
39. Happy birthday, son-in-law! You have given so much love and laughter to our family, and today we wish you a day filled with endless joy.
40. Happy birthday, son-in-law! Your humor, kindness, and compassion are such treasures in our family. Thank you for lighting up our lives!
41. You are my son-in-law only in name because you are my best friend for all the years yet to come. I wish you a happy birthday, my daughter's lovely companion, whose smile makes him look handsome.
42. "All the world is birthday cake! So take a piece, but not too much." – George Harrison
43. "Age is a case of mind over matter. If you don't mind, it doesn't matter." – Satchel Paige
44. Out of all the pricks, my daughter has dated, we like you the best. And being a prick is not so bad, once you find your rose! Happy B-Day, buddy!
45. May you achieve success and all. May you and my daughter forever remain long and together. Wishing you lots of love and a happy birthday son-in-law!
46. Son-in-law: I'm so glad you're part of the family. You're a truly hardworking and devoted husband and father. Happy birthday.
47. My daughter picked such a lovely man, and we are so happy you're in our lives. Happy birthday!
48. Son-in-law, may your birthday be filled with laughter, joy, and many wonderful memories. You deserve all the good things.
49. Seeing our daughter so happy, makes it all worth it, and we have you to thank for that! Happy birthday to our dear son-in-law, our family wouldn't be the same without you!
50. I know you are the perfect person to care for my daughter that's why I agree with my daughter, happy birthday son in law
51. If my daughter was just happy for the rest of her life, then I would be happy too. But then you came along and made her feel more than that. You make her feel loved and beautiful. Thank you. Happy birthday!
52. May God bless you with good health and happiness. Keep smiling. Happy birthday.
53. After all these years, the only thing I can say is "thank you." You made my daughter the happiest person in the world, and you deserve the best in life! Happy Birthday son in law!
54. One year older, not so sure about one year wiser. Happy birthday son-in-law!
55. You hold my daughter's hand safely when she is about to stumble and fall. You have given us enough reasons to think you are the best for our girl. Happy birthday, dear son-in-law, but I must say, you are too tall.
56. Keep glowing like the sun and shower your lightness on my daughter every day, law
57. We love you, [son-in-law's name], have a great time celebrating today.
58. Wishing a very happy birthday to a one-of-a-kind son-in-law. You're so caring, giving, and kind, and we love having you in our family. We truly enjoy all the time we spend together, and look forward to seeing you again very soon. All our love.
59. Don't judge, but we've already started scoping out the "Happy Birthday Son-in-Law" birthday cards for next year, and, boy, they are few and far between. I think we'll have to get crafty with Canva. Just wanted to give you a warning—also, happy birthday from your favorite future in-laws!
60. In you, I gained a son, a friend, and a partner in crime. Happy birthday, son-in-law.
61. Dear Son-In-Law: Each year with you feels special. You're a great husband to my daughter and a fantastic addition to our family. Here's to an amazing birthday and many more!
62. Here's a tip: more cake for you means less for us. Sounds good? Dig in!
63. It is a blessing to have you in our family. You're such a kind-hearted soul, and you respect us so much. We're grateful to you. Keep shining. I wish you all the best in your future endeavors. Happy birthday, son.
64. Your responsibility is very high and I just want to tell you that you are doing your job awesome, keep doing it, birthday son in law
65. Whatever money you earn during your life, you give to our daughter and be a servant to her! What we could expect is great for you! Yet I wish you the loveliest happy birthday dearest son-in-law!
66. As you are so handsome your heart is so kind. We wish you abundance for everything. May God protect you both. Happy birthday son-in-law!
67. I proudly tell people that you are more of my son than a son-in-law to me. From scolding me for forgetting my medicines to loving our daughter – your actions prove you to be a precious part of our family. Happy birthday, son-in-law, and you know you are a cutie.
68. Wishing my son-in-law heaps of joy and laughter on his important. Thank you for being such a fun, soft-hearted, and loving soul. Happy birthday!
69. We love you and perhaps we could not tell you how much. You are a star of our family and the heart of our daughter. Wishing you all the love and a happy birthday son-in-law!
70. You stuck with our family through thick and thin, and you never gave up on our daughter! Happy birthday, (name), you deserve the best!