45 Happy Mother's Day Quotes For Your Mom
Beautiful happy mother's day quotes for your mom.
If you're in need of heartfelt messages to share with your mom, we've rounded up the best Mother's Day quotes. In this collection of Mother's Day quotes, you'll find just the right words to celebrate her on Sunday, May 14. Whether you're sending Happy Mother's Day messages to your biological mom, stepmom, chosen mom, grandma, or the mother of your children, you're sure to find a gem in this collection.
Happy Mother's Day Quotes
1. "Mother, you are my voice of reason, storyteller, advice giver, hand holder shoulder, supporter, broken heart healer teacher & sunshine"
2. "To the world you are a Mother, but to your family, you are the World. Happy Mother's Day!"
3. "Mother is The Best My mom is great; She's sweet as she can be; When I need some help, I know She's always there for me. Mom loves me all the time, Even when I'm a pest; She always takes good care of me; My mother is the best. Happy Mother's Day!"
4. "Happy Mother's Day! The love she has hidden in her heart Always gives me a better jump to stark She is the one whose love is true. Thank you Mom for being your love."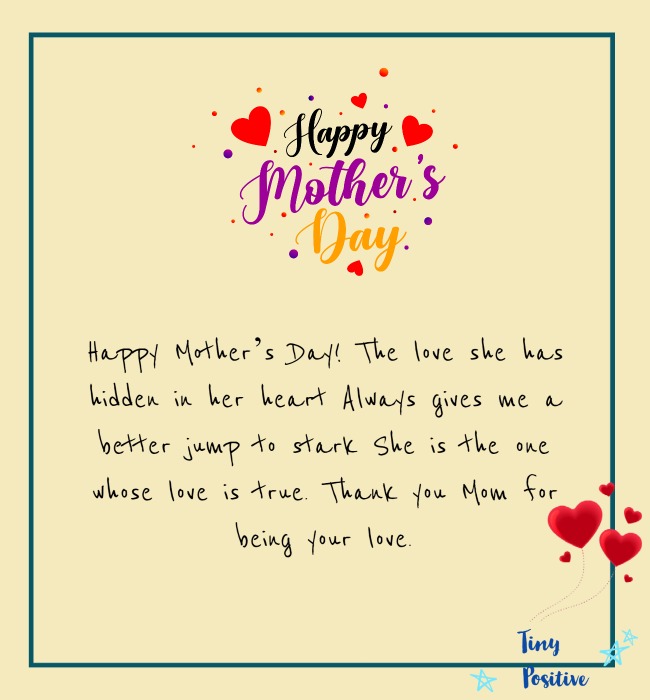 5. "Happy Mother's Day!"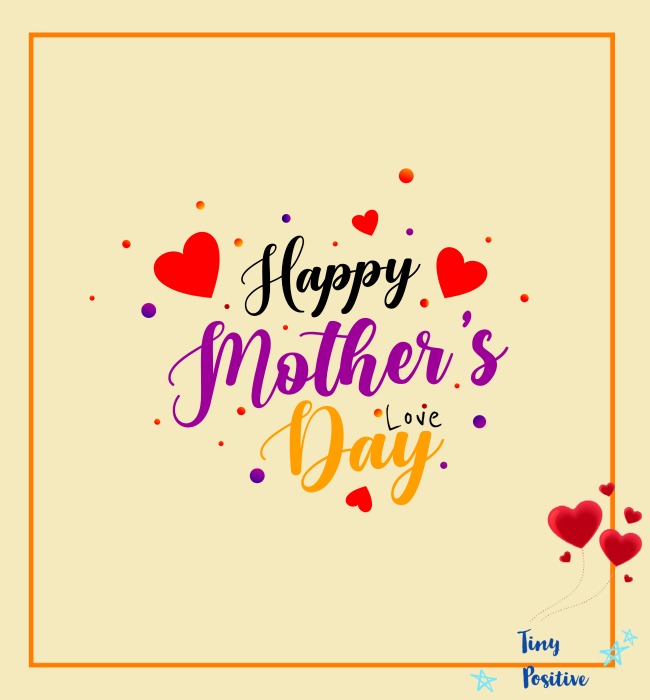 6. "A mother is more precious than all the riches in the world. Violet James"
7. "Happy Mother's Day! Wishing you all the love and happiness you so richly deserve!"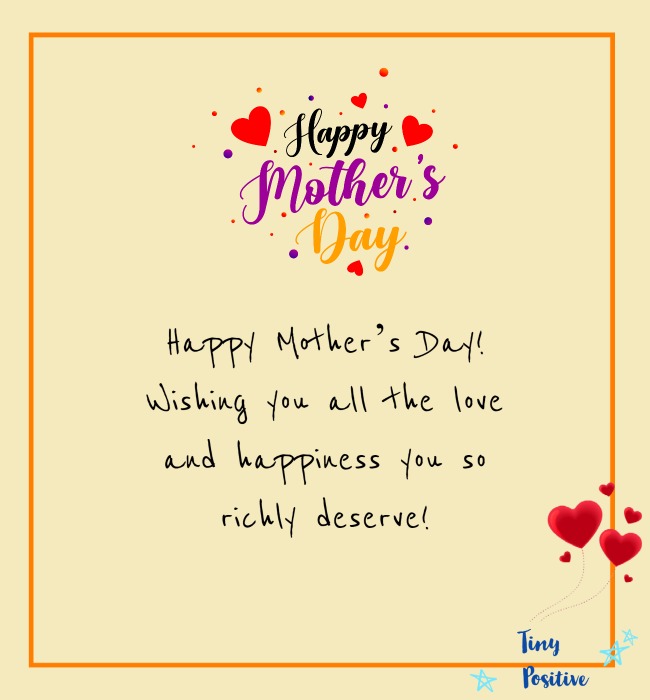 8. "Mom, thank you for always being there for me. Not just when I needed you, but when I needed you most. -Vicki Reece"
9. "My mother taught me about the power of inspiration and courage, and she did it with strength and a passion that I wish could be bottled. CARLY FIORINA"
10. "Love liberates. … She liberated me to life. MAYA ANGELOU"
11. "Behind all your stories is always your mother's story, because hers is where yours begins. Mitch Albom"
12. "My mother shed her protective love down around me and without knowing why people sensed that I had value. MAYA ANGELOU"
13. "Biology is the least of what makes someone a mother. – Oprah Winfrey"
14. "Mother's Day! The heart of a mother is a deep abyss at the bottom of which you will always find forgiveness."
15. "If I know what love is, it is because of you. -Hermann Hesse"
16. "To describe my mother would be to write about a hurricane in its perfect power. Maya Angelou"
17. "MOM To the world, you are a mother, but to our family. you are the world. Happy Mother's Day TO THE BEST mother."
18. "The truth is that no matter how old we are, as long as our mothers are alive, we want our mother."
19. "Mothers hold their children's hands for a short while, but their hearts forever. Unknown"
20. "Youth fades; love droops; the leaves of friendship fall; A mother's secret hope outlives them all. – OLIVER WENDELL HOLMES"
21. "There is no role in life more essential and eternal than Motherhood."
22. "A mother's love is more beautiful than any fresh flower. Debasish Mridha"
23. "I find the backbone of a mother to be the strongest, yet most pliable of them all; to bend over backward and still be a pillar-some call it magic. -Ka'ala"
24. "THERE'S NO WAY TO BE A perfect mother AND A MILLION WAYS TO BE A GOOD ONE. -Jill Churchill"
25. "I love you as the trees love water and sunshine, you help me grow, prosper and reach great heights."
26. "WISHESGREETING.COM"
27. "MOMS ARE LIKES BUTTONS THEY HOLD -everything Together. Happy Mother's Day!"
28. "God could not be everywhere, and therefore he made mothers. Jewish Proverb"
29. "If love is as sweet as a flower, then my mother is that sweet flower of love. Unknown"
30. "Out of all the mothers-in-law out there, I got the best. Have a beautiful day."
31. "World's Best Mom. BEST MOM EVER!"
32. "you give the best hugs HAPPY MOTHER'S Day!"
33. "MOTHER'S DAY To the best mother in the universe: Happy Mother's Day! You deserve all the love, care, and support that you've lovingly given every day of my life. I love you!"
34. "my Mother was the Most Beautiful woman I ever saw. GEORGE WASHINGTON"
35. "Mom, even though you're not with me… you're right here in my heart."
36. "To the women who ROSE me right Happy Mother's Day."
37. "You are the best mom in the world Fris my case Happy Mother's Day."
38. "To Mom, Thank God, I inherited your sense of humor. It makes me look cool With Love, Your Cool Kid."
39. "Mother's love is peace. It need not be acquired, it need not be deserved. -Erich Fromm"
40. "Mom, there are not enough words to how important you are to me. You have nurtured me, taught me, fought for me, and loved me unconditionally, and for that, I am so thankful. Happy Mother's Day."
41. "Happy Mother's Day Sweetheart You are an amazing wife and mother. I'm so blessed to be sharing life and parenthood with you."
42. "I Will Have to Wait Until I'm a Mother. I struggle so deeply to understand how someone can pour their entire soul blood and energy into someone without wanting anything in return."
43. "She is clothed with strength & dignity and she laughs without fear of the future when she speaks her words are wise and she gives with instructions proverbs kindness."
44. "a Mother is like a FLOWER each one beautiful. unique."
45. "There's no way to be a perfect mother and a million ways to be a good one. Jill Churchill"