135 Inspirational Quotes on Relationship Love, Life & Happiness
Wonderful relationship quotes to describe your true feelings to your special one. We have handpicked some of the best relationship quotes and love quotes from our daily picks. Happiness life sayings "Most relationship fails not because of the absence of love. Love is always present. It's just that one loves too much and the other loves too little."
Cute relationship Quotes to Reignite Your Love. "The wrong person makes you beg for attention, affection, love, and commitment. The right person gives you these things because they love you." Wonderful quotes images with words of wisdom and the best 135 Amazing Happiness Quotes and Wishes with Beautiful Pictures "Love is that condition in which the happiness of another person is essential to your own."
Share the best Relationship quotes and Relationship advice for him and her. These beautiful relationship quotes and images are funny, sweet, romantic, and inspirational.
Relationship Quotes
"1. "Cutting people out of my life doesn't mean I hate them. It means I respect myself."
"2. "Any man can treat a lady right for one night, but it takes a great man to treat her right for the rest of her life."
3. "Compromise, communication, and consistency are needed in all relationships, not just romantic ones."
4. "A person that truly loves you will never let you go, no matter how hard the situation is."
"5. "You can do no wrong in my eyes. You are perfect!"
6. "A relationship means that you come together to make each other better. Believe in each other. Support each other. Build each other. Be their peace, not their problem."
7. "I will always protect you and take care of you. I will shelter you and be by your side always."
8. "Remember this. The right person will never get tired of you."
9. "A true relationship is when you can tell each other anything and everything. No secrets and no lies."
10. "A true relationship is someone who accepts your past, supports your present, loves you and encourages your future."
Love Relationship Quotes
11. "I know I'm not that special to you but would you like to travel with me for the entire rest of my life, to become as our life?"
12. "The best relationships usually begin unexpectedly."
13. "Relationships gets stronger when both of you are willing to understand mistakes and forgive each other."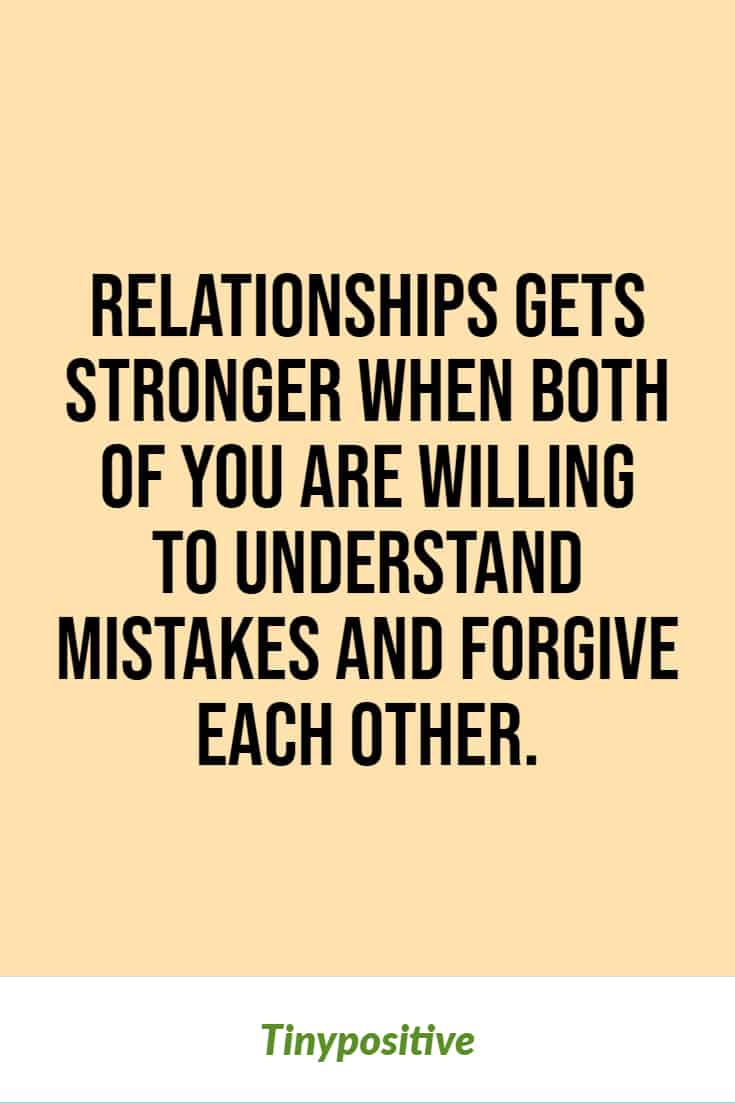 14. "Couples who laugh together, last together"
15. "When two hearts are meant for each other, no distance is too far, no time too long and no other love can break them apart."
16. "A man with dreams needs a woman with a vision."
17. "A private relationship means nobody knows y'all business but everybody knows y'all together don't get it confused…."
18. "A broken relationship can make you feel more lonely than when you were single."
19. I can't wait till I can roll over and kiss you good morning instead of sending a text."
20. "What I have with you I don't want with anyone else."
Love And Relationship Quotes
21. "Grab her waist. Pull her closer. Then kiss her."
22. "I honestly don't think there is anything more intimate between two people than trust and vulnerability."
23. "I asked a millionaire how did he do it, he said forget about girls and focus on one woman, she'll help you achieve everything"
24. "I can't wait until I can roll over at 2 A.M. to find your lips instead of a text"
25. "A strong relationship starts with two people who are ready to sacrifice anything for each other."
26. "If she's your girl, hug her, kiss her, tell her that you miss her spoil her, love her, and never let her feel like she's in competition."
27. "Treat a woman right and you'll never have to worry about keeping her."
28. "Best friend. Better half. Soulmate."
29. "I look at you and see the rest of my life in front of my eyes."
30. "Before I go to sleep I imagine you by my side."
Lovely Relationship Quotes
31. "A relationship where you instantly miss each other right after being together."
32. "Never let your ego get in the way of your progress, happiness or relationships."
33. "A gentleman knows when to listen when to comment, and when to simply hold his woman and kiss her tears away."
34. "I want to wake up at 2 am, roll over, see your face, and know that I'm supposed to be."
35. "The wrong girl will distract you. The right girl will motivate you."
36. "Let's be that perfect couple that everyone hates."
37. "The most intimate thing we can do is to allow people we love most see us at our worst. At our lowest. At our weakest. True intimacy happens when nothing is perfect."
38. "Good sense of humor, dirty mind and a beautiful heart. A deadly combination."
39. "In the middle of a hug, squeeze a little harder. She'll love it, promise."
40. "No matter what you do or where you go, I will always love you and my love will keep following you till the end of life."
Quotes About Happiness
Happiness Quotes. Today I choose life. Some days are just bad days, that's all. To enjoy good health, to bring true happiness to one's family, to bring peace to all, one must first discipline and control one's own mind.
41. "Lovers are patient and know that the moon needs time to become full."
42. "Even when we fight and I put up a wall, I want you to climb over it and show me that you still care."
43. "If I could show you how awful you made me feel, you would never be able to look me in the eye again."
44. "Relationships aren't always a fairy tale. They're not always fireworks and sparks, at least, after the start. But they are a quiet rhythm and hum of love and care. It's not just fired in your soul, but one in your heart, keeping you warm and comfortable, comforting you as you drowsily drift into sleep. And I love that."
45. "A soul mate's purpose is to shake you up, tear apart your ego a little bit, show you your obstacles and addictions, break your heart open so new light can get in, and make you so desperate and out of control that you have to transform your life."
46. "Always compliment her on a date. She spent a lot of time looking good for you."
47. "Saying "I'm tired" when you're actually sad."
48. "Good relationships don't just happen. They take time, patience, and two people who truly want to be together."
49. "It is always more rewarding to restore a relationship than to run from it."
50. "Sexiness wears thin after a while and beauty fades, but to be married to a man who makes you laugh every day, ah, now that's a real treat!"
Love Relationship Quotes And Sayings
51. "I want to hold your hand at 80 and say, "We made it."
52. "A man is only insecure about his woman when he knows she deserves better"
53. "Apologizing doesn't mean you're right or wrong, it just means you value your relationships more than your ego."
54. "The couples that are meant to be, are the ones who go through everything that is meant to tear them apart, and come out even stronger."
55. "Our journey isn't perfect, but it's ours… And I'll stick with you 'til the end."
56. "Love is nothing without action. Trust is nothing without proof. And sorry is nothing without change."
57. "You can't have a relationship without any fights, but you can make your relationship worth the fight."
58. "5 rules of a relationship: 1. Stay faithful. 2. Make them feel wanted. 3. Respect your partner. 4. Don't flirt with others. 5. Make time."
59. "If he makes you laugh. Kisses your forehead. Says he's sorry. Makes an effort. Holds your hand. Works hard. Attempts to understand you. …then, believe it or not, he's quite perfect."
60. "Relationships don't last because of the good times. They last because the hard times were handled with love and care."
Live Life Quotes
Live Life Quotes. Live life and enjoy it. Be free, and live life fully.  Quotes About Living Your Life to the Fullest. Enjoy the little things in life, for one day you may look back and realize they were the big things.
61. "I want us to grow old together and live a life full of love, happiness, and naughty adventures."
62. "You have my whole heart for my whole life."
63. "You deserve a relationship with someone who never has you guessing where you stand with them."
64. "Being someone's first love may be great, but to be their last is beyond perfect."
65. "How to keep a relationship: Communicate. Talk about things, the good and bad. Build trusts. Be honest. Be faithful. Be there for one another. Make time for one another. Leave the past to the past. Know that having arguments are normal. Know that you won't always be happy. Don't expect change. Appreciate the flaws. Appreciate each other. Become best friends. Lastly, love each other unconditionally."
66. "You're my favorite place to go to when my mind searches for peace."
67. "Success is nothing without someone you love to share it with"
68. "Having a girlfriend is a responsibility, not a privilege, and your job is to keep a smile on her pretty face."
69. "Your girl should be bad enough to grab every dudes attention, but loyal enough to let them know they don't stand a chance."
70. "Love is many things, but it is never deceitful. Nothing toxic comes from genuine love. Remember that."
Relationship Quotes Deep
71. "Every woman deserves to have a man who is proudly willing to say to the whole world, "Yeah she's my one and only. She is beautiful and she is mine."
72. "It's extremely rare to find someone that cares about you without another agenda. One that wants to see you achieve your dreams, encourages you to grow and is there through all your mess. Be grateful for those people in your life, and always keep them close!"
73. "Some boys fear women becoming their equals, while real men assist them and step it up a gear, so they are both empowered."
74. "Imagine a guy actually praying just to get married to you. Yes, it's pure and real when they remember you in their prayers."
75. "A boy speaks, a gentleman acts."
76. "I think the most beautiful thing you could ever experience is finding someone who wants your all. Even if your all is a mess."
77. "When you say "I love you", say it in a way she'll want to hear it. Look her in the eyes; grasp her hand, and lean close to her, so she knows you're truly serious."
78. "To make a relationship work it takes a lot of forgiveness and hard work. You can't just walk away when things get difficult."
79. "The wrong person will distract you, but the right one will motivate you to reach your full potential."
80. "Your relationship doesn't need to make sense to anyone, except you and your partner. It's a relationship. Not a community project."
Long Distance Relationship Quotes
81. "Never start a new relationship if you're not over the last one."
82. "You meet thousands of people and none of them really touch you. And then you meet one person and your life is changed forever."
83. "A huge mistake in relationships is we confuse a real person with the image of them we've created in our minds."
84. "A mans most precious jewel is the woman who walks by his side"
85. "An honest man will cut off any female that truly threatens his relationship with his woman."
86. "Face the storm together, you will be stronger knowing you're not alone. Have courage!"
87. "Let's make money baby. We can fall in love later."
88. "The best relationship is when you two can act like lovers and best friends."
89. "In a relationship, you need somebody who's going to call you out, not somebody who's going to let everything slide. You need somebody who doesn't want to live without you, but can. Not somebody that is dependent, but somebody who is stronger with you. A relationship is two people, not one."
90. "Hugging is the most beautiful form of communication that allows the other person to know beyond a doubt that they matter."
New Relationship Quotes
91. "The perfect couple cook together, laugh together, train together, grow together."
92. "Take every opportunity possible to show your lady how much you care about her. There is no such thing as being "Too romantic"
93. "When two souls fall in love, there is nothing else but the yearning to be close to the other. The presence is felt through a held hand, a voice heard and the sight of a smile. Even though a simple touch. Souls do not have calendars or clocks, nor do they understand the notion of time or distance. They only know it feels right to be with one another. This is the reason why you miss someone so much when they are not around. Your soul feels their absence – it doesn't realize the separation is temporary."
94. "If you fall in love with her, tell her. Just be prepared to catch her."
95. "Money attracts the female you want, struggle attracts the female you need."
96. "Sometimes the greatest relationships are the ones you never expected to be in. the ones that sweep you off your feet and challenge every view you've ever had."
97. "A perfect couple is just two imperfect people who refuse to give up on each other."
Quotes About Life
Life Sayings and Quotes. 100 Famous Quotes on Life, Love, and Success. "Life isn't about finding yourself. Your life will never be the same again. Learn to enjoy every minute of your life. Be happy now. Don't wait for something outside of yourself to make you happy in the future."
98. "And when you choose a life partner, you're choosing a lot of things, including your parenting partner and someone who will deeply influence your children, your eating companion for about 20,000 meals, your travel companion for about 100 vacations, your primary leisure time and retirement friend, your career therapist, and someone whose day you'll hear about 18,000 times. Intense shit."
99. "Focus on love to improve relationships. Expressions of gratitude through loving words and actions create positive emotions for the giver and receiver."
100. "When you meet someone who tries their hardest to stick by you regardless of how difficult you are, keep them. Keep them at all costs because finding someone who cares enough to look past your flaws isn't something that happens every day."
Read More
Relationship Pictures Quotes
Looking for the best relationship quotes pictures, photos & images? Tinypositive's pictures can be used on Facebook, Tumblr, Pinterest, Twitter, and blogs.
Beautiful relationship quotes and images