117 Inspirational Quotes For Women – Strong Quotes About Strong Women
Quotes About Strong Women. Inspirational Quotes For Women strength "The strongest actions for a woman is to love herself, be herself and shine amongst those who never believed she could." "A strong woman builds her own world.
The beauty of a woman must be seen from in her eyes because that is the doorway to her heart, the place where love resides. Smile from your heart; nothing is more beautiful than a woman who is happy to be herself. Neither man nor woman is perfect or complete without the other.
Inspirational Quotes For Women. Through the years, women from different generations and locations have proven their strength and independence. However, it is a fact that there are still a lot of oppressed women around the world. We should not stop fighting and advocating for gender equality. Here, we have collected strong women quotes to inspire women everywhere. Being strong is not just about physical abilities, but also emotional, intellectual, and mental strength. It may be hard for some to become a strong independent woman but with perseverance and self-confidence, we should all achieve it.
Strong Women Quotes
Independent Strong Women Quotes. I believe in being strong when everything seems to be going wrong. Life has knocked me down a few times, it showed me things I never wanted to see. Think like a queen. She was fierce. I'm tough, ambitious and I know exactly what I want.
1. "And suddenly you know: It's time to start something new & trust the magic of beginnings."
2. "There's something about a woman with a loud mind that sits, in silence, smiling knowing she can crush you with the truth."
3. "Stop trying to be fancy. Stop trying to keep up. Just show up and be faithful where you are and with what you have. And watch what happens."
. 4. "The most important day is the day you decide you're good enough for you. It's the day you set yourself free."
5. "Three months from now, you will thank yourself."
6. "The smartest thing a woman can ever learn is to never need a man."
7. "To care for those who once cared for us is one of the highest honors."
8. "Stop waiting for Friday, for summer, for someone to fall in love with you, for life. Happiness is achieved when you stop waiting for it and make the most of the moment you are in now."
9. "A woman is like a diamond: She reaches her full potential under immense amounts of pressure."
10. "If you can dream it, you can do it."
11. "When a man realizes that his woman is a teammate, not an opponent, that's when his life changes. Don't break her down. Build her up and let her help you win."
12. "I never dreamed about success. I worked for it."
13. "Whenever you do not understand what's happening in your life, just close your eyes, take a deep breath and say "god, I know it's your plan. Just help me through it"."
14. "Beauty begins the moment you decide to be yourself."
15. "I attract positive loving and open-minded people into my life."
16. "Don't trip over what is behind you."
17. "What if… Everything you are going through is preparing you for what you asked for?"
18. "In order to love who you are, you cannot hate the experiences that shaped you."
19. "Courage is like a muscle; We strengthen it with use."
20. "Fuck excuses, you either want it or you don't."
21. "To make a difference in someone's life you don't have to be brilliant, rich, beautiful, or perfect. You just have to care."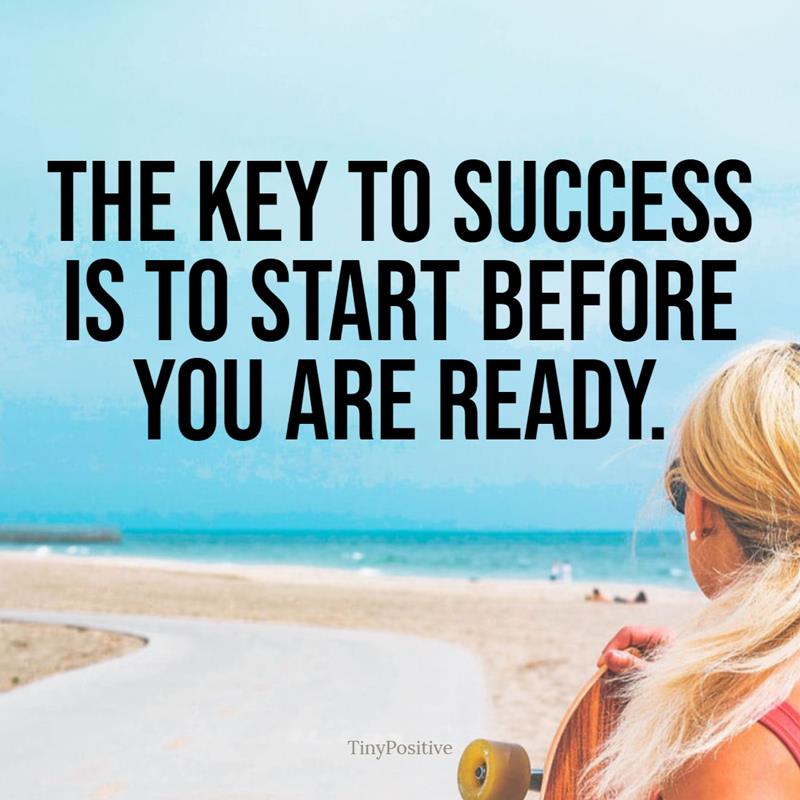 22. "Mission: Be so busy loving your life that you have no time for doubt, worry, hate or fear."
23. Quotes About Women "The only person I need to compare myself to is my Yesterday self."
24. "Success is a journey, not a destination."
25. "While they all fall in love with her smile she waits for one who will fall in love with her scars."
26. "She will not worry. She will be just fine. She will brave this new season one day at a time."
27. "The key to success is to start before you are ready."
28. "The truth is still the truth, even if no one believes it. A lie is still a lie, even if everyone believes it."
29. "A ship is always a shore but that is not what it's built for."
30. "Above all, be the heroine of your life, not the victim."
31. "She believed she could so she did."
32. "She's a dreamer. A doer. A thinker. She sees a possibility everywhere."
33. "Think like a queen a queen is not afraid to fail failure is another steppingstone to greatness."
34. "If someone is judging you, that's their problem. Don't make it yours."
35. "I never knew how strong I was until I had to forgive someone who wasn't sorry, and accepts an apology I never received."
Inspirational Quotes For Women
These inspirational quotes for women will help to light a fire that will burn. "When we do the best we can, we never know what miracle is wrought in our life, or in the life of another."
36. "Don't mistake my kindness for weakness. I am kind to everyone, but when someone is unkind to me, weak is not what you are going to remember about me."
37. "Being both soft and strong is a combination very few have mastered."
38. "Sensitive people should be treasured. They love deeply and think deeply about life. They are loyal, honest, and true. The simple things sometimes mean the most to them. They don't need to change or harden. Their purity makes them who they are."
39. "I remember the first day I ever looked into your eyes and felt my entire world flip."
40. "Brave girl, promise me, you will not shrink yourself in order to make others feel comfortable."
41. "Women who invest in themselves go further."
42. "The comeback is always stronger than the setback."
43. "You must never be fearful about what you are doing when it is right."
44. "Focus on where you want to go, not on what you fear."
45. "Every saint has a past and every sinner has a future."
46. "Do not tolerate disrespect. Not even from yourself."
47. "Entrepreneurship is the last refuge of the troublemaking individual."
48. "Character is how you treat those who can do nothing for you."
49. "Never be ashamed of a scar. It simply means you were stronger than whatever tried to hurt you."
50. "Anything I've ever done that ultimately was worthwhile initially scared me to death."
51. "when you start seeing your worth, you'll find it harder to stay around people who don't."
52. "Have unshakable faith in yourself to become everything you want to be."
53. "I don't carry any hate in my heart. If I loved you before, I still got a love for you. Stay away from me though."
54. "Grateful for where I'm at, excited about where I'm going." Short inspirational quotes for women
55. "You gain strength, courage, and confidence by every experience in which you really stop to look fear in the face. Do the thing you think you cannot do."
56. "Have I not commanded you? Be strong and courageous. Do not be afraid; do not be discouraged, for the lord your god will be with you wherever you go."
57. "You are beautiful for you are fearfully & wonderfully made."
58. "Talk about your blessings more than you talk about your problems."
59. Focus more on how much you have done how honest it is and how it moves you forward. Focus less on how many people have seen it."
60. "No one is coming to save you. This life of yours is 100% your responsibility."
61. "A woman without a man is like a fish without a bicycle."
62. "Weak people revenge. Strong people forgive. Intelligent people ignore."
Quotes About Strong Women
63. "Don't underestimate me. I know more than I say, think more than I speak, & notice more than you realize."
64. "Integrity is choosing courage over comfort; choosing what is right over what is fun, fast, or easy; and choosing to practice our values rather than simply professing them."
65. "You don't need to see the whole staircase, just take the first step."
66. "She made broken look beautiful and strong look immiscible she walked with the universe on her shoulders and made it look like a pair of wings."
67. "If they say "it's impossible" remember that it's impossible for them; Not for you."
68. "I wish I could hurt you the way you hurt me. But I know that if I had the chance, I wouldn't do it."
69. "Either you run the day or the day runs you." Inspirational Quotes For Women
70. "And the day came when the risk to remain in a tight bud was more painful than the risk it took to blossom."
71. "To live is the rarest thing in the world. Most people just exist."
72. "Only those who care about you can hear you when you're quiet."
73. "I am not what has happened to me. I am what I choose to become."
74. "Life is a journey to be experienced, not a problem to be solved."
75. "Be brave to be strong and courageous. Do not be afraid; do not be discouraged, for the lord your god will be with you wherever you go."
76. "Stop crying about being a doormat and get the fuck off the floor."
77. "It took me quite a long time to develop a voice, and now that I have it, I am not going to be silent."
78. "A quitter never wins a winner never quits."
79. "Sometimes you need to give yourself a pep talk like, hello. You're a badass woman. Don't be sad. You got this & I love you."
80. "Be stronger than your strongest excuse." Best Inspirational Quotes For Women
81. "Be strong enough to stand alone, smart enough to know when you need help, and brave enough to ask for it."
82. "Rise above the storm and you will find the sunshine."
83. "You can't go back and change the beginning but you can start where you are and change the ending."
84. "Family is supposed to be a safe place. Very often, it's the place where we find the deepest heartache."
85. "You might not be able to see where you're headed, but I assure you, the lord can. And he's holding your hand. He's breathing life into every aspect of your present and future.
He's shining his light even in the darkest corners of your mind. So hold tight to him. Hold tight to his love, knowing that he will never leave you or forsake you, and because of Jesus, you are in his grip forever. No uncertainty, no broken dreams, and no fear of the future can keep you from him. He is with you always, in all of this. Trust him. Believe. And let him gracefully lead you where you need to be."
86. "Tell the negative committee that meets inside your head to sit down & be quiet!"
86. "Sometimes the best thing we can do is. Not think, not worry, not stress or obsess. Whatever is going to happen will happen, whether we worry about or not. Just breathe have faith, Everything will work out just fine."
87. "If you're struggling and your people are just sitting there watching you struggle, they're not your people."
88. "Remind Yourself: When lipstick wears off, you reapply it.You don't hate on it, you don't discard it. You don't tell it that it's weak. You simply reapply it because that's the rational thing to do. You do that because you understand that certain activities like eating, drinking, kissing makes it wear off. Why can't you do that with yourself? Why do you have to hate yourself . When you need to rest and recharge? Why do you have to feel guilty? Why can't you understand that certain activities just wear you down and not every day has to be a productive day to be a good day.Some brand lipsticks last longer than others but they aren't necessarily the belter shade.Understand that you are a beautiful and unique shade and that you need to have some unproductive happy days and that's completely okay."
90. "Mindset. It's all about mindset. From the moment you wake up, to the moment you rest your head at night. Everything is up to you. Your emotions, your thoughts, your perceptions, your reactions. Every moment."
91. "Note to Self you need to ignore what everyone else is doing and achieving. – Your life is about breaking your own limits and outgrowing yourself to live your best life. You are not in competition with anyone else; Plan to outdo your past, not other people."
92. "Note to Self: #Empowering women now • I deserve love • I deserve self-care • I deserve respect • I deserve honesty • I deserve the best • I deserve to be noticed • I deserve to get better • I did not deserve to be treated like I didn't matter • I didn't deserve to be hurt, even by myself."
93. "Get comfortable being uncomfortable. Get confident being uncertain. Don't give up just because something is hard. Pushing through challenges is what makes you grow."
94. "Be patient when it seems things are not going right and may never be right again. Accept that what is yours will come to you in the right way at just the right moment."
95. "The tiny seed knew that in order to grow it needed to be dropped in dirt, covered in darkness, and struggle to reach the light."
96. " Look around when someone has trouble with their problems when someone is looking for comfort, when they are asked for advice or help. I would always be there. Is it strange to expect that I would expect these thoughts, this help? I am committed to others. I prefer to see someone else happy then I see myself. I get satisfaction when I see another person happy when I have been able to help. I like to do it. When I look around me I see egoism. I see loneliness and lies. We no longer look around to help each other, we do not look at someone else's happiness. People only think of their own happiness, even if that means taking away someone else's happiness. We all say the same thing, we say that we are there for each other. People say they are there to help you, even if you do not ask. People say they show interest in you. See you, hear you. But do we?"
97. "Life always offers you a second chance. It's called tomorrow."
98. "Hard times are often blessings in disguise. Let go and let life strengthen you. No matter how much it hurts, hold your head up and keep going. This is an important lesson to remember when you're having a rough day, a bad month or a crappy year. Truth be told, sometimes the hardest lessons to learn are the ones your spirit needs most. Your past was never a mistake if you learned from it. So take all the crazy experiences and lessons and place them in a box labeled "Thank You."
99. "Beauty I like people who have a sense of individuality. I love expression and anything awkward and imperfect because that's natural and that's real. Show yourself, do not pretend otherwise. I think it's beautiful the way you sparkle when you talk about the things you love. And I like it when you disseminate when you open up and dare to be completely honest, and when you laugh at the smallest things and then look into my eyes. When you are yourself, and show me who you are. I'm here, appreciating this moment. All I can do is look around, looking at you, looking into your eyes and seeing a smile appear on your face, and at that moment there is warm, familiar energy that you do not want to say goodbye to. I am grateful for everything that I have, for that beautiful moment, this moment that maybe the last. Beauty is the way you hold yourself, it's how you treat people. The way you love. It's self acceptance. Beauty is your soul."
100. "Don't quit when things go wrong as they sometimes will, when the road you're trudging seems all uphill when the funds are low and the debts are high, and you want to smile, but you have to sigh, when care is pressing you down a bit rest if you must, but don't quit. Life is strange with its twists and turns, as every one of us sometimes learns, And many a fellow turns about When he might have won had he stuck it out. Don't give up though the pace seems slow-you may succeed with another blow. Often the goal is nearer than It seems to a fair and faltering man, Often the struggler has given up. When he might have captured the victor's cup, And he learned too late when night came down, how close he was to the golden crown. Success is failure turned inside out-the silver tint of the clouds of doubt, and you never can tell how close you are, It may be near when it seems afar, so stick to the fight when you're hardest hit,—it's when things seem worst that you mustn't quit."
101. "You don't have a right to the cards you believe you should have been dealt with. You have an obligation to play the hell out of the ones you're holding." Inspirational Quotes For Women
102. "Dear Bestie, no matter how many friends I have, no matter how much I talk to them or spend time with them, always remember, that no one can replace you. You were, are, and will always be irreplaceable. You have a special place in my heart forever."
103. "You're not going to master the rest of your life in one day. Just relax. Master the day. Then just keep doing that every day."
104. "This is what you don't do. Don't let this world make you bitter. Don't let the actions of other people turn you cold on the inside. Certain things happen that hurt us, people come that leave us, and most of all there are moments when you're bound to fall. Don't let those things make you unkind. It's okay to cry. It's okay to be sad. But it's never okay to do other people wrong just because you were done wrong. We're human. We break. We make mistakes. But don't let pain and sadness run your lives. Wake up in the morning and do what you think is right. There are moments in your life where you feel like giving up and you can't take it anymore. It's okay. Breathe. Inhale. Exhale. I know you're weak. But the things that show your weak side are also the same ones that make you stronger in the long run. Its all about taking whatever life throws at you and learning from it."
105. "It's important to do what's best for you, whether people approve of it or not. This is your life. You know what's good for you and remember, self love takes strength."
106. "Here's what you do: You keep praying you keep growing you believe in yourself you trust his timing."
107. "Never forget how far you've come. Everything you have gotten through. All the times you have pushed on even when you felt you couldn't. All the mornings you got out of bed no matter how hard it was. All the times you wanted to give up but you got through another day. Never forget how much strength you have developed along the way."
108. "Choice is the most powerful tool we have. Everything boils down to choice. We exist in a field of infinite possibilities. Every choice we make shuts an infinite number of doors and opens an infinite number of doors. At any point, we can change the direction of our lives by a simple choice. It is all in our hands, our hearts, and our minds."
109. "Recognize that real happiness isn't something large and looming on the horizon ahead but something small and already here. The smile of someone you love. A decent breakfast. The warm sunset. Your little everyday joys all lined up in a row. It's about not taking for granted the blessings you have. It's about being grateful."
110. "In case no one told you today: You're beautiful. You're loved. You're needed. You're alive for a reason. You're stronger than you think. You're going to get through this. I'm glad you're alive."
111. "A shoutout to everyone who is trying right now…Trying to do the right thing, trying to stay open, trying to keep going, trying to hold on, trying to let go, trying to find their flow, trying to stay afloat, trying to meet each new day, trying to find their balance, trying to love themselves, trying new things and new ways…I see you. I'm there too. we're in this together."
112. "Talking about our problems is our greatest addiction. Break the habit. Talk about your joys."
113. "This letter is for you. The you that's had a rough week. You that seems to be under constant storm clouds. You that feels invisible. You that don't know how much longer you can hold on. The you that has lost faith. The you that always blames yourself for everything that goes wrong. To you. You are incredible. You make this world a little bit more wonderful. You have so much potential and so many things left to do. You have time. Better things are coming your way, so please hang in there. You can do it."
114. "God saw you getting tired when a cure was not to be. So he wrapped his arms around you, and whispered, "Come unto me". You didn't deserve what you went through, and so he gave you rest. Gods garden must be beautiful, he only takes the best. So when I saw you sleeping, So peaceful and free from pain. I could not wish you to come back, to suffer that all again."
115. Inspirational Quotes For Women "We may encounter many defeats but we must not be defeated."
116. "you have so much to look forward to. So why do you keep going back to the same people who don't appreciate you? you know, the one who keeps telling you they'll change but don't, it's almost like you don't care about yourself, as if, you don't love yourself enough to move on. So you keep putting yourself into these hard situations in the name of love—thinking it'll end well because of how much time you've invested, it doesn't have to be this way. you don't have to put up with it… although, you think you do. Real relationships don't work this way. you don't give to expect something in return but you also don't give and expect nothing. It's all for something, it always is. and it works both ways…you love and expect to be loved in return, it's simple. Anything else is suicide, it's you not giving yourself what you already know you deserve, amen."
117. "Someday everything will make perfect sense. So, for now, laugh at the confusion, smile through the tears and keep reminding yourself that everything happens for a reason."
Read More
Strong Women Quotes with Images
Looking for the best women quotes pictures, photos & images? tinypositive's pictures can be used on Facebook, Tumblr, Pinterest, Twitter, and blogs.