37 Crush Quotes and Crush Sayings With Beautiful Images
Crush Quotes and Crush Sayings With Beautiful Images "According to psychologists, a crush lasts on average for four months, if feelings persist beyond that, one is considered to be "in love".
Crushes Sayings and Quotes. You get crushes on people. Teenage crush is like flu. Some crushes just never went away. Just thinking about you brings a smile to face, a twinkle to my eye, and a skipped beat to my heart. Isn't it funny how just one little phone call or text can make your bad day suddenly wonderful!
#1. I don't know what to talk about, but I wanna talk to you.

#2. Since you've been around i smile a lot more than i use to.
#3. It's so hard to pretend to be friends with someone special, when every time you look at that person, all you see is everything you want to have.
#4. Before, we were talking in words. Now, we're only talking in silence. Things changed.
#5. Single is taken waiting for my crush to like me and shit.
#6. Hey, I wanted to tell you… that smile of yours drives me crazy.
#7. Best quote I've ever read. A guy and a girl can be just friends, but at one point or another, they will fall for each other… Maybe temporarily, maybe at the wrong time, maybe too late, or maybe forever
Cute Crush Quotes
#8. You never realize how much you like someone until you watch them like someone else.
#9. I wish you could see the stupid smile I get when we're texting
#10. I love it when I catch you looking at me, and then you smile and look away
#11. We flirt all the time & smile and laugh, but how am I supposed to know if this is real? I can't control my feelings anymore. It's so hard being around you and not saying all the things I want you to hear. I'm trying my best to act casual, but all I can seem to do is get mesmerized in your eyes.
#12. I need to stop thinking about you because I know you're not thinking about me.
#13. I find pieces of you in every song I listen to
#14. Has every fallen in love with someone you shouldn't have fallen in love with?
#15. Someone once asked me: Why do you love music so much? I replied: because it's the only thing that stays when everything and everyone is gone.
#16. Sometimes, I stand in front of the mirror & think why would anyone ever love you?
#17. Psychological fact, being unable to get someone off your mind indicates that you are also on that person's mind as well.
#18. You have no idea how hard it is to force myself to stop thinking about you, sometimes.
#19. He smiled and all I could think was 'oh shit'.
#20. I like it when you smile, it's cute.
#21. And the boy doesn't even know that these poems, quotes, lyrics, are all about him

#22. I think about you a little more than i should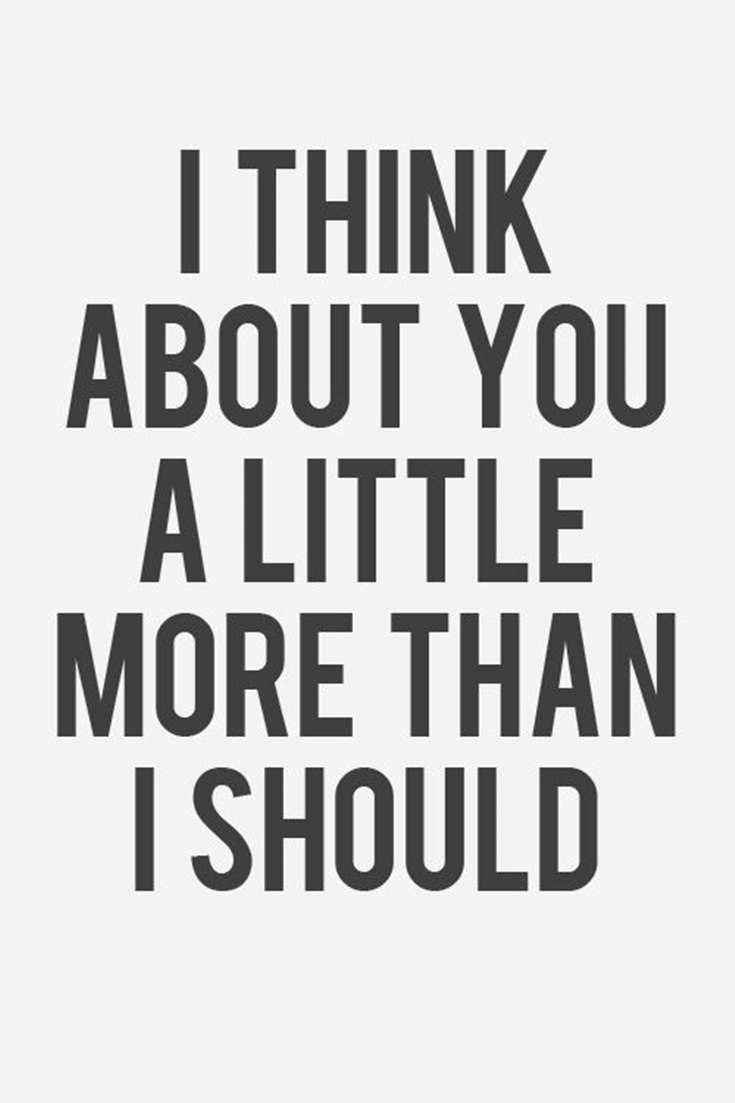 #23. Raise ur hand if you've ever typed I'm okay# as our eyes filled up w tears
#24. I wonder what I look like in your eyes
#25. C'mon, we'd look cute together.
#26. I just want to hug you so much right now.
Crush Quotes With Beautiful Images
#27. Why do they call it a crush? because that's how you feel when they don't feel the same way in return.
#28. Your smile is literally the cutest thing I have ever seen in my life.

#29. I wish i could just ask you what you think of me.
#30. I feel like I'm waiting for something that isn't going to happen.
#31. All I really want to know is what's running through your mind when you look at me.
#32. I look forward to going to school just to see you.
#33. I try not to like him, but I fall even harder.
#34. You will never think of me the way I think of you. And that kills me every day.

#35. If you asked me how many times you've crossed my mind i would say once because you never really left…
#36. The worst feeling is when you feel like you're annoying the only person you wanna talk to
#37. Of course, I like you. You're fun to be around. You're smart. You're funny. You're (very) cute. You're different. You're crazy. You're perfect, in an imperfect way. You always speak your mind. You have the best laugh. Of course, I like you. You're you.