60 Sort Inspirational Bible Quotes – Encouraging Bible Verses
encouraging bible verses.
The Bible includes many motivational yet demanding, brief verses that are perfect for memorization or social media sharing. Even if these Bible verses are small, they can also function in extraordinary ways to change the lives of all who follow Jesus! Seek to memorize these brief passages of the Bible, and figure out the power and grace of God in the day when you recall His promises!
Encouraging Bible Verses
It is the LORD who goes before you. He will be with you; he will e will Not lear ot leave you or forsake you, do not fear or be dismayed." Deuteronomy 31:8
Be strong & immovable. Always work enthusiastically for the Lord, for you know that nothing you do for the Lord is ever useless." -1 Corinthians 15:58
"Be strong! Be fearless! Don't be afraid and don't be scared by your enemies, because the Lord your God is the one who marches with you. He won't let you down, and he won't abandon you." DEUTERONOMY 31:6
"Be strong and courageous. Do not be afraid; do not be discouraged, for the Lord your God will be with you wherever you go." -Joshua 1:9 RD
"Trust in the LORD with all your heart and lean not on your own understanding." -Proverbs 3:5
Sort Inspirational Bible Quotes that will inspire your life
"Consider it pure joy, my brothers and sisters, whenever you face trials of many kinds because you know that the testing of your faith produces perseverance. Let perseverance finish its work so that you may be mature and complete, not lacking anything." James 1:2-4
"Yet for us, there is but one God, the Father, from whom all things came and for whom we live; and there is but one Lord, Jesus Christ, through whom all things came and through whom we live." Corinthians 8:6
"Heal me, LORD, and I will be healed; save me & I will be saved, for you are the one I praise." -Jeremiah 17:14
"You have been born anew, not from perishable but from imperishable seed, through the living and abiding word of God." Peter 1:23
Most motivational Bible verse recommendations & when to use them "In fact, this is love for God: to keep his commands. And his commands are not burdensome." John 5:3
"But seek first the kingdom of God and his righteousness, and all these Wil be added to you." Matthew 6:33
"Now faith is the assurance of things hoped for, the conviction of things not seen." Hebrews 11:1
They replied, "Belief in the Lord Jesus, and you will be saved—you and your household." Acts 16:31
"The will of God will never take you to where e the grace of Göd will not protect you." Unknow authors quotes on god prayer
"When I called, you answered me; you made me bold and stouthearted." Psalm 138:3
Encouraging Bible Verses & Religious Quotes that we love
"Remember those earlier days after you had received the light when you endured in a great conflict full of suffering." Hebrews 10:32
"Come to me, all you who are weary and burdened, and I will give you REST." — Matthew 11:28
"Rejoice always; pray without ceasing; in everything give thanks …" Thessalonians 5:16-18
"For God so loved the world that he gave his one and only Son, that whoever believes in him shall not perish but have eternal life." John 3:16
"Peace I leave with you, my peace I give unto you: not as the world giveth, give I unto you. Let not your heart be troubled, neither let it be afraid." Jhon 14.27
"Be not quick in your spirit to become angry, for anger lodges in the heart of fools." Ecclesiastes 7:9
"Trust in the LORD with all your heart and lean not on your own understanding of life." Proverbs 3:5
"Call unto me, and I will answer thee, and shew thee great and mighty things, which thou knowest not." Jeremiah 33:3
"As a mother comforts her child, so I will comfort you; in Jerusalem, you shall find your comfort." Isaiah 66:13
"The name of the LORD is a fortified tower; the righteous run to it and are safe." Proverbs 18:10
Meaningful strength short inspirational bible verses
Strength short inspirational bible verses "So do not fear, for I am with you; do not be dismayed, for I am your God. I will strengthen you and help you; I will uphold you with my righteous right hand." Isaiah 41:10
"With all your heart you must trust the Lord and not your own judgment. Always let Him lead you, and He will clear the road for you to follow." Proverbs 3:5-6
"So whether you eat or drink or whatever you do, do it all for the glory of God." Corinthians 10:31
Encouraging Bible Verses – Bible Quotes for Strength and Healing "God is faithful, and he will not let you be tested beyond your strength, but with the testing, he will also provide the way out so that you may be able to endure it." 1 CORINTHIANS 10:12-14
"For whatever things were written before were written for our learning, that we through the patience and comfort of the Scriptures might have hope." Romans 15:4
"No temptation has overtaken you that is not common to man. God is faithful, and he will not let you be tempted beyond your ability, but with the temptation, he will also provide the way of escape, that you may be able to endure it." Corinthians 10:13
"When you're weak, God wants to be strong for you. He wants to be the rock that you lean on, the strong tower that you run to. Overwhelming times show us God is our source of strength. "Trust in the LORD forever, for the LORD GOD is an everlasting rock." Isaiah 26:4
"Even though I walk through the valley of the shadow of death, I fear no evil, for You are with me; Your rod and Your staff, they comfort me." Psalm 23:4
Sort Inspirational Bible Quotes Images, Photos, and Bible Pictures
We love Proverbs with pictures, but our selection of inspirational Bible quotes images includes verses from many more chapters plus other meaningful sayings to inspire life.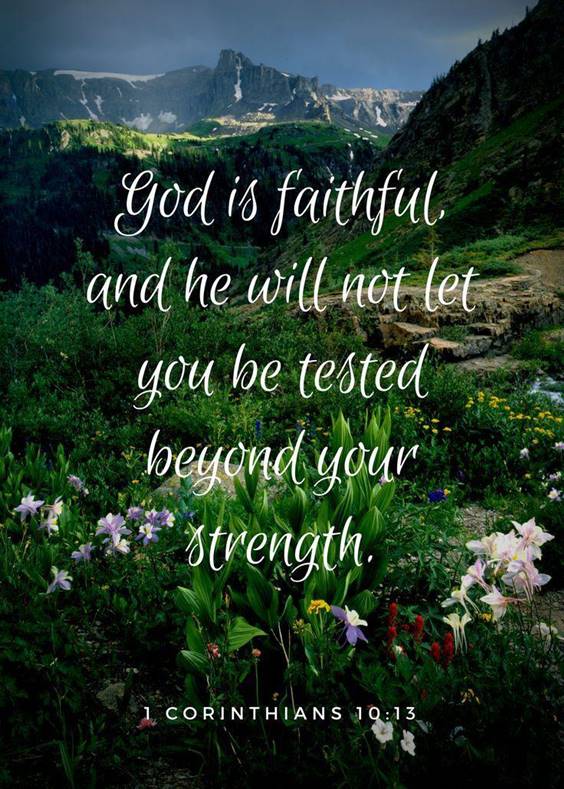 Encouraging Bible Verses – Inspirational Scripture Quotes
The Scriptures below will offer encouragement in your everyday life and provide inspiration and strength as you face the challenges of life. God's life plan is for you to have joy and to live life to the fullest. The Bible can lift your spirits and give you a fresh start if you feel overwhelmed, run-down, and without hope! Read the Holy Bible verses below on comfort and witness the healing power of God over our hearts. Throughout the day, meditate on these scriptures and exchange them with your friends so that you can affect someone else's day!
Despair and anxiety were always an intrinsic part of earthly life. In dark times Christians have sought encouraging scriptural words to provide strength, wisdom, and guidance about God's love and truth. When we get advice and guidance from the Scriptures we are assured of this. Notwithstanding the misfortunes that we can encounter, there is still a chance to chose love and grow above anger and terror. The Bible was created to remind us of such truth and to encourage us to believe in life and God's goodness.
To help you find, or offer, biblical encouragement, we have collected this collection of encouraging Bible verses that you can reflect on in order to grow your faith in Christ. Through these inspirational scriptures and quotations from the Bible help you rekindle the power of your mind and the love of your spirit.