59 Deep Love Quotes To Express How You Really Feel
Read these deep love quotes for her to help you find the right words to tell your special lady how much you love her. More importantly… Deep love stands firm in the good and the bad, the stressful and the blissful, promising to care for and be intentional with one another for as long as you both shall live. Whether you're cultivating lifelong friendships or appreciating the fact that you've found your perfect match to settle down with, enjoy reading through these 59 quotes about deep love!
Deep Love Sayings and Quotes. Love asks me no questions, and gives me endless support. The best and most beautiful things in this world cannot be seen or even heard but must be felt with the heart. You were my first last. There shall never be another you. Love grows by giving. We collected the best 59 deep love quotes for you.
Deep Love Quotes
#1. Love is a meeting of two souls, fully accepting the dark and light within each other."
#2. The bravest thing you will ever do is love again."
#3. Find someone who will love your soul more than your body."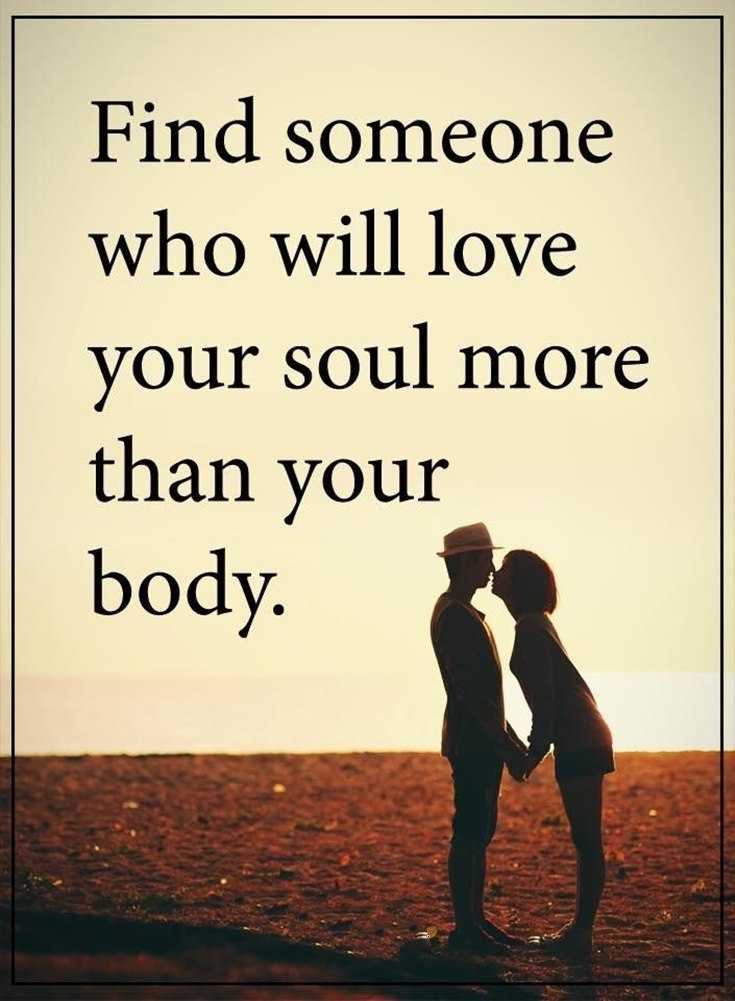 #4. Waiting is a sign of true love and patience, anyone can say I love you, but not everyone can wait and prove it's true."
#5. When your eyes lock with mine the whole world stops."
#6. Inspirational love quotes "The ones who love you will never leave you. Even if there are a hundred reasons to give up, they will find one reason to hold on."
#7. Love is a combination of respect, friendship, understanding. Communication and companionship."
#8. It's easy to love someone when everything is good. It's when things aren't going as planned that true love either shines or it fades away. And if it fades, then it was never loved."
#9. Elderly loving couples are simply adorable it makes me realize that true love can and does last forever."
#10. Fall in love with somebody who will never let you go to sleep wondering if you still matter."
Read:
Love Quotes
#11. Always remember, someone's effort is a reflection of their interest in you."
#12. Love recognizes no barriers. It jumps hurdles, leaps fences, penetrates walls to arrive at its destination full of hope."
#13. If the one you love, breaks your heart, always remember. There is that special person in the world that will come along and mend it."
#14. I've fallen in love with you more than I planned, and there's no way I am letting you go."
#15. Sometimes the love of your life comes after the mistake of your life."

#16. Babe, you make me feel beautiful, loved protected, and taken care of. You make me a better person, and I don't ever want to live my life without you by my side. Thank you for being mine. I love you, most."
#17. Lord, grant that I might not so much seek to be loved as to love."
#18. Love is not about how long you've been together, it's how you both enjoy your moments together."
#19. In the end, if you actually find someone who truly cares and is genuine in their love for you, you have found a rare thing."
#20. Inspirational Life Quotes "If we could spread love as quickly as we spread hate and negativity, what an amazing world we would live in."
Read:
Cute Love Quotes
#21. I love seeing older couples together. It gives me faith that love can last forever."
#22. Never chase love, affection or attention. If it isn't given freely by another person, it isn't worth having."
#23. Love is never planned. It does not happen for a reason. But, when love is real, it becomes your plan for life and your reason for living."

#24. If it is destroying you then it is not love, my dear."
#25. Tell her why you love her. Not how much you love her."

#26. Not everyone is going to love you. Most people don't even love themselves."
#27. I saw that you were perfect and I loved you. Then I saw that you were not perfect and I loved you even more."
#28. My point is, when you love someone, when you care for someone, you have to do it through the good and the bad. Not just when you're happy and it's easy."
#29. The best love story is when you fall in love with the most unexpected person at the most unexpected time."
#30. True love leaves a memory no one can steal and heartache no can heal."
Read:
Deep Love Quotes for Her
#31. I wish I could turn back the clock. I'd find you sooner and love you longer."
#32. True love isn't easy but it must be fought for. Because once you find it, it can never be replaced."
#33. You can search throughout the entire universe for someone who is more deserving of your love and affection than you are yourself, and that person is not to be found anywhere. You yourself, as much as anybody in the entire universe deserve your love and affection."
#34. Loving someone doesn't mean the person must be urs, loving someone means if then person u love is happy, u will be happy too."
#35. I have decided to stick with love. Hate is too great a burden to bear."
#36. The beginning of love is to let those we love be perfectly themselves, and not to twist them to fit our own image. Otherwise, we love only the reflection of ourselves we find in them."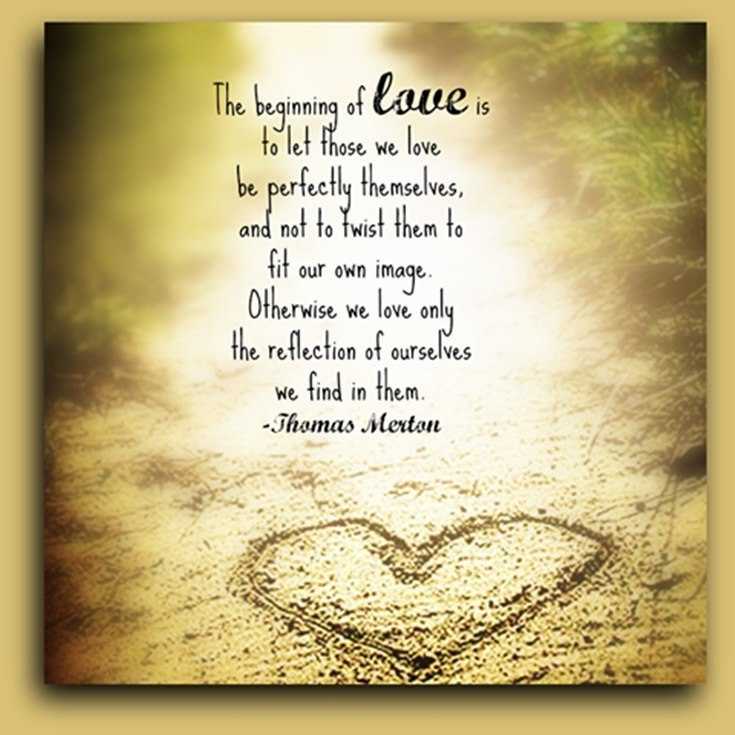 #37. Love is cheek and forehead kisses."
#38. The greatest thing you'll ever learn is just to love and be loved in return."
#39. Nothing motivates a man quite like the right woman."

#40. Many people think 'I love U' are the best words to hear, but actually 'I LOVE U TOO' are the greatest words to hear back."
Read:
Romantic Deep Love Quotes
#41. You know you really love someone when you can't hate them for breaking your heart."
#42. If you hesitate between me and another person, don't choose me."
#43. Sometimes the smallest act of love can take up the biggest space in someone's heart."
#44. You don't have to be perfect to let somebody love you. Remember, being yourself is the best way to make someone fall in love with you."
#45. No matter how wasted you are, there will always be someone who will love you because you're not like anyone else."
#46. Love is when he gives you a piece of your soul, that you never knew was missing."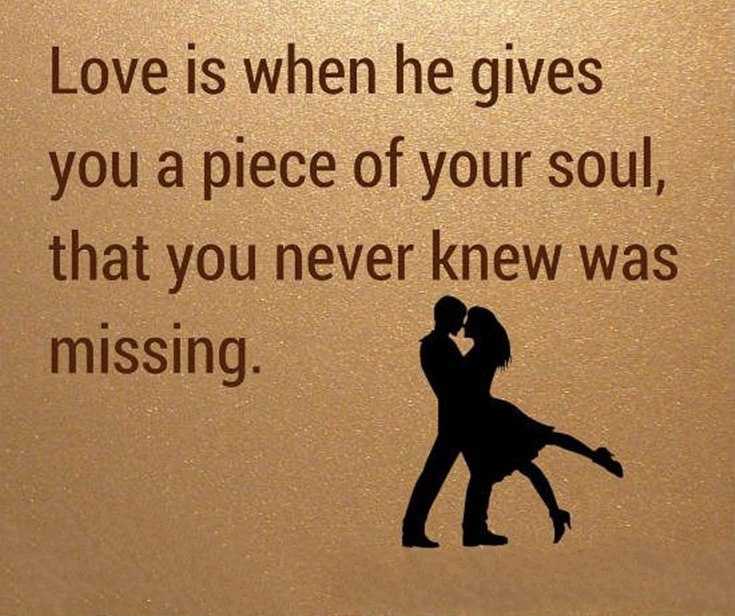 #47. Just because someone doesn't love you the way you want them to, doesn't mean they don't love you with everything they have."
#48. Loving a hundred wrong persons may not even affect your life. But, hating 1 right person may disturb your heart for whole life."
#49. I love when I see old people together. because it makes me believe that true love exists."

#50. Everybody knows how to love, but only few people know how to stay in love with one person for a very long period of time."
Deep Love Quotes for Him
#51. Don't put your heart in someone's hand until you're sure they know how to hold it tight."
#52. Love is a combination of respect, friendship, understanding. Communication and companionship."
#53. When some love is gone, it doesn't mean you should be bitter. It only means you need someone better. Love always ends for a reason and leaves with a lesson."
#54. Love is all you need."
#55. If history makes me forget, then geography will help me find you. Because maths can't calculate how much I love you."
#56. True love is knowing someone's weakness and not taking advantage of them. Knowing their flaws and accepting who they are."

#57. There are a lot of people who call you by your name, but there is only one person who can make it sound so damn special."
#58. I find the best way to love someone is not to change them, but instead, help them reveal the greatest version of themselves."
#59. Love is not what you say. Love is what you do."
Love!!!
Real love runs deeper than the oceans and stands taller than the mountains. It finds every little corner of our hearts and fills them with the greatest of joys. The vastness of love can touch us if we offer ourselves completely to this sensation. Here are 150 emotional and heartfelt quotes that capture the essence of deep love and bring out its beauty.
Deep Love Quotes To Express How You Really Feel "Infuse your life with action. Don't wait for it to happen. Make it happen. Make your own future. Make your own hope. Make your own love. And whatever your beliefs, honor your creator, not by passively waiting for grace to come down from upon high, but by doing what you can to make grace happen… yourself, right now, right down here on Earth.